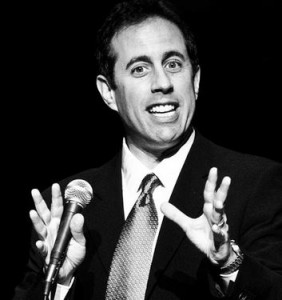 What's … the … deal with these hypersensitive college kids nowadays?
Jerry Seinfeld recently went off on politically correct comedy in an interview with ESPN's The Herd with Colin Cowherd, explaining why he won't do shows on college campuses.
Entertainment Weekly reports:
"I don't play colleges, but I hear a lot of people tell me, 'Don't go near colleges. They're so PC," Seinfeld says.

Seinfeld says teens and college-aged kids don't understand what it means to throw around certain politically-correct terms. "They just want to use these words: 'That's racist;' 'That's sexist;' 'That's prejudice,'" he said. "They don't know what the f­—k they're talking about."
Regular readers of The College Fix know Seinfeld is not alone. Chris Rock refuses to do campus gigs, for example.
Said Rock: "Kids raised on a culture of 'We're not going to keep score in the game because we don't want anybody to lose.' Or just ignoring race to a fault. You can't say 'the black kid over there.' No, it's 'the guy with the red shoes.' You can't even be offensive on your way to being inoffensive."
And stand-up comics told The College Fix they make a deal with the devil when they step foot on campus: The gigs pay well, but a performance that backfires can endanger their other revenue streams.
Meanwhile, there's the female campus comedy troupe that refuses to tell jokes that might hurt people's feelings.
Like The College Fix on Facebook / Follow us on Twitter
IMAGE: Thomas Hawk/Flickr