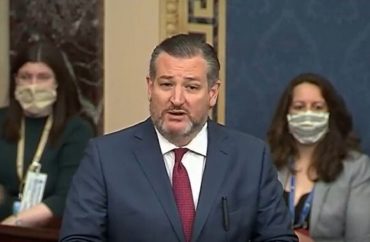 Senator Cruz called out Yale for discrimination
Senate Democrats voted down an amendment from Senate Republicans, including Ted Cruz, John Kennedy, and Bill Haggerty.
It would have barred "Federal funding for any institution of higher education that discriminates against Asian Americans in recruitment, applicant review, or admissions."
"This amendment is straightforward, it targets the ongoing discrimination that is being directed against Asian-Americans by colleges and universities across the country," Cruz said.
He specifically mentioned Harvard and Yale as "denying admission to qualified Asian-American applicants in favor of underrepresented minority groups."
Cruz said that the Department of Justice had sued these universities, until President Joe Biden pulled DOJ support for the lawsuits.
"We have major universities in this country that are discriminating in admissions against Asian-Americans," Louisiana Republican Senator John Kennedy said. "Discrimination is discrimination," Kennedy said.
"This is wrong, it is contemptible, it is odious," Kennedy said of the discrimination against Asian-Americans.
It gained 49 Republican votes against 48 Democratic votes — it needed 60 votes to pass.
The Texas Republican's amendment came as part of a vote on Senate legislation called the "COVID-19 Hate Crimes Act" that would require "expedited review of hate crimes" by the Department of Justice.
The legislation from Hawaii Democratic Senator Mazie Hirono would "establish online reporting of hate crimes or incidents" and "expand public education campaigns aimed at raising awareness of hate crimes and reaching victims."
The hate crime legislation, sponsored by Hawaii Senator Mazie Hirono, passed the Senate 94-1, with Missouri Republican Josh Hawley the only no vote.
Hirono called the amendment a "cynical attack" on universities that seek to "increase diversity."
"This amendment also threatens colleges and universities with the loss of all federal funding for pursuing policies" that had been upheld by the court system, Hirono said.
Hirono's legislation awaits a vote in the U.S. House of Representatives.
MORE: Pitt demotes professor for criticizing affirmative action
IMAGE: CSPAN
Like The College Fix on Facebook / Follow us on Twitter