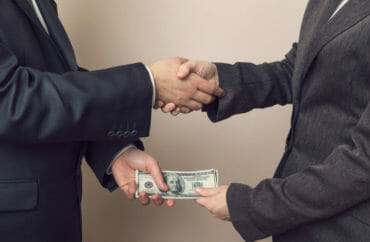 Predicts foreign funding will remain an issue
A security expert who studies foreign influence on higher education recently explained President Trump's victories to protect universities from foreign influence and what should be continued for the next four years.
Ryan Mauro, a national security analyst with the Clarion Project, told The College Fix what he hopes the next presidential administration will do with regard to countries that spend money to influence American students and universities.
The national security think tank also released a video in early September that reviewed a number of ways foreign countries influence higher education.
With the AP calling the election for Joe Biden, the future of the government's role in regulating foreign influence has yet to be determined. Biden is projected to win, barring several legal challenges from the Trump campaign.
"The Trump Administration's Education Department launched an unprecedented investigation of this foreign funding and the Justice Department has also arrested several professors for their illegal dealings with the Communist Chinese regime," Mauro said via email to The College Fix, when asked to comment on Trump's legacy of combating foreign influence.
The Department of Education under President Trump and Secretary Betsy DeVos* has strongly enforced existing foreign funding disclosure laws.
The Clarion Project analyst explained:
When we completed our initial survey of foreign funding of universities and colleges, we concluded that billions of dollars … was coming in from countries and governments hostile to American interests and there was almost no transparency surrounding the transactions. We initial tracked $10 billion in declared foreign funding since 2012—that number is now $17 billion. That doesn't include the undeclared transactions (despite the schools' legal obligations to declare the funding) or any money funneled into the schools through more covert means.
"Our conclusion was that the foreign funding presented a majority threat to our national security and the integrity of our education," Mauro said.
MORE: Department of Ed finds $6.5 billion in unreported donations to U.S. colleges
He said he is cautiously optimistic about how a President Joe Biden would approach the role of foreign countries in higher education.
Mauro said:
There is bipartisan concern about this issue and it's likely that the investigations will continue under the Biden Administration, but the question is whether it will be a priority. Will the Biden Administration allot the same amount of resources to it or divert resources to other issues it would prefer to address? That is an open question. We don't have a firm statement from the Biden campaign or Biden himself about this issue.
However, the national security think tank has a track record of working with both Republicans and Democrats.
"Clarion Project has both Republican and Democratic supporters and has consulted with policymakers and activists on both sides of the political aisle in recent years," Mauro said.
"We believe this is one of those rare issues with bipartisan appeal that can be decisively addressed," the security analyst said.
Mauro discussed that bipartisan agreement on the issue can sometimes make it harder to address the problems of foreign influence. It's one reason why an agreed upon issue paradoxically does not make as much traction in D.C., he said.
Mauro explained:
The harmful influence of Communist China, Middle Eastern governments who sponsor extremism and hate, and the Russian dictatorship is of concern to both parties. You don't see heated disagreements about whether those adversaries' influence is a bad thing. Perhaps that's why you don't see much bipartisan action on this issue—agreement isn't attention-grabbing like confrontation is.
"When everyone agrees on something, it becomes easier for it to be forgotten about," he said.
MORE: Northwestern has taken $340 million from Qatar
MORE: FBI says Stanford researcher is an active Chinese Communist
IMAGE: Impact Photography / Shutterstock.com
Like The College Fix on Facebook / Follow us on Twitter