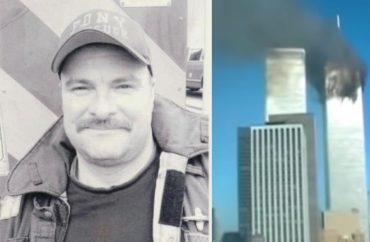 'Like Pearl Harbor and D-Day, 9/11 is one of the most significant days in our country's history'
Niels Jorgensen contracted leukemia as a result of his work as a firefighter on the rescue operations at Ground Zero in New York.
He recently told The College Fix what he hopes college students, many of whom were born after September 11, 2001, learn about the tragic attack on America.
He's also the host of a series of podcasts of twenty stories from people affected by the terrorist attack, put together by Iron Light Labs.
"Like Pearl Harbor and D-Day, 9/11 is one of the most significant days in our country's history," Jorgensen (above) told The Fix through a media representative.
"It was the largest attack on American soil, it led to the global war on terror that has cost $8 trillion and 900,000 lives, and transformed us into a security state (most young folks don't remember how security at airports before 9/11 was basically non-existent)," Jorgensen said.
He wants students to know that the "brokenness" of humanity also led to a display of greatness.
The former firefighter said:
However, amidst the worst display of humanity's brokenness, we also got to see the most powerful display of humanity's greatness. Hundreds of first responders who gave their lives to save others, civilians who put themselves at risk and saved over 50 people inside of the North Tower when they had no responsibility to, and the 10,000 person community of Gander in Canada who welcomed over 6,000 "plane people" whose planes were forced to land when our air space shut down.
"We also felt 'the feeling of 9/12' and the nation coming together to an extraordinary level," he said.
The College Fix asked him how professors could teach about this topic and what he would say about people who argue that 9/11 is a topic that could make Muslims feel uncomfortable.
He said:
Students should learn about how many Islamists and others can't stand our Western worldview that's centered on human freedom when there's is the opposite, that there are different worldviews out there and some are evil ones that we have to contend with, about the high cost of preserving our freedom, how good can come out of evil, and the self-sacrificial stories we're telling which should be imitated by all of us.
"This isn't a perfect country, but it's the greatest country in human history," Jorgensen said. "9/11 and how our country heroically responded to it should remind us that. My Danish grandfather used to cry every time he heard the Star-Spangled Banner and they were tears of joy for the blessing that is America for our family."
He urged the teaching of history, even if the truth is uncomfortable.
"We have to teach the actual history or we risk our culture not being willing to fight evil if we don't even know or believe that is evil," the New York firefighter said. "Denialism doesn't work. A car without oil doesn't run."
MORE: Born after 9/11, these students honor the fallen
IMAGE: Iron Light Labs; Carolyn Dries courtesy of CNN/YouTube
Like The College Fix on Facebook / Follow us on Twitter