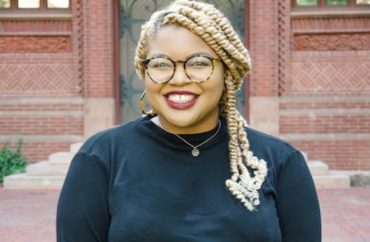 'Sexual racism' has become 'automated,' professor says
"Sexual racism" is a problem in dating apps, according to a University of Michigan professor.
Professor Apryl Williams has conducted research on online dating algorithms and how they impact racial minorities.
Her work won her a "Anti-Racism Research & Community Impact Faculty Fellowship" through the Big Ten university in Ann Arbor.
Her project is titled "No More Swipe Wrongs: Teaching About Automated Sexual Racism through Online Dating Tools" and she has a book coming out on the same topic. Many dating apps require users to "swipe" left or right if they are interested or not in a potential match.
"If socially constructed racialized beliefs about attractiveness, femininity, and masculinity are so deeply entrenched in our society, how can the algorithms that govern our online intimacy experiences claim to avoid them," Williams asks as part of her research, according to a university news release.
Williams (pictured) did not respond to a College Fix inquiry sent in the past three weeks that asked if she could provide examples of sexual racism, if she considers it racist to prefer people of the same racial group and what solutions she would propose to decrease sexual racism.
The university previously gave her money for her work on "algorithmic reparations."
A Drexel University professor who recently wrote a book about liberal ideology in higher education said this type of research is par for the course.
Professor Stanley Ridgley said via email to The Fix that "there's a burgeoning pseudo-academic cottage industry in the discovery of new variants of 'racism,' and this El Dorado seems to have no end in sight.''
"I've tracked the steady multiplying of various 'racisms' for several years now — we're at more than 25 'racisms' and still counting — and Professor Williams adds yet another to the list," he said.
MORE: Ohio State's 'anti-racist dance' instructor now 'artist laureate'
"She's searching for 'racism,' eh? No surprise that she 'found' it," he said.
"The formula is to contrive one's very own 'racism,' to name it, and then to mine the racial vein for years thereafter, and Professor Apryl Williams cannot be faulted for claiming a share of the racial spoils," he said. "Virtually her entire oeuvre consists of racialist storytelling in cargo cult journals, such as the Journal of Diversity in Higher Education, Ethnicities, and Sociology of Race & Ethnicity."
Furthermore, he said if the professor "can find and convince people to fund her enthusiasm, then kudos," when asked about what the research priorities of a university should be.
The business professor said further "but in an era when schools such as West Virginia University are cutting genuine academic disciplines just to keep the lights on, it would be difficult to find a more profoundly unserious and labored enterprise than this racialist silliness, where the juice is just not worth the squeeze.''
The grant money for Williams comes from the National Center for Institutional Diversity at the university. The center also hosts the "Anti-Racism Collaborative."
Director Elizabeth Cole, who is also the "Diversity and Social Transformation Professor of Psychology and Women's and Gender Studies," said the money will help "anti-racism scholars" build relationships with influential sources.
"Anti-racism scholars are not only engaged in intellectual discovery and pursuits related to racial equality, racial justice, and structural racism—they're thinking about how to get their research to media outlets, policymakers, and practitioners," Cole said.
The Anti-Racism Collaborative "supports a variety of activities to catalyze innovation in research and scholarship, as well as informed practice, public engagement, and action to advance anti-racist principles and organizing," according to the university's announcement.
The university awarded the fellowships to five other academics.
MORE: San Fran State hires 'anti-racist' engineering dean
IMAGE: AprylWilliams.com
Like The College Fix on Facebook / Follow us on Twitter