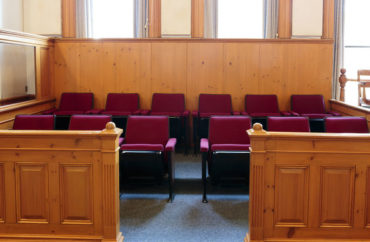 Sexual history is relevant when it challenges credibility, not 'chastity'
When a woman accuses a man of sexual assault, her sexual history is supposed to be irrelevant. It may very well be.
At other times, her sexual history may go to the heart of her credibility and motive to accuse.
The Pennsylvania Superior Court ordered a new trial in the case of a former college student designated a "sexually violent predator" and sentenced to about two years in prison, The Legal Intelligencer reports.
A three-judge appeals panel said the trial judge misapplied the state's rape shield law, wrongly hiding information from jurors and violating Darold William Palmore's rights under the Sixth Amendment's confrontation clause.
"[T]his was not harmless error," said the opinion by Judge Judith Olson: Jurors weren't allowed to hear Palmore's explanation for why "K.H." might have accused him of sexual assault.
Then a student at Clarion University, Palmore met his accuser at "a gathering in his dorm room" three years ago, and she came back alone two weeks later, according to Olson's summary.
K.H. later accused him of forcing himself on her, kissing her, placing a hand on her breast under her shirt and touching her vagina, all without consent.
Palmore denied any sexual contact, and wanted to tell a jury what she did before reporting him to police. Per Olson:
In this case, Appellant [Palmore] sought to admit evidence that he witnessed Victim [K.H.] perform oral sex on his roommate. Appellant argued that he confronted Victim about cheating on her boyfriend with his roommate and that he later informed Victim's boyfriend about the encounter. He testified that he verbally informed Victim's boyfriend of the encounter and then communicated about the encounter in a Facebook Messenger conversation with Victim's boyfriend. Appellant theorized that Victim accused him of sexual assault so that her boyfriend would not believe his story that he witnessed Victim engaging in sexual conduct with Appellant's roommate.
The trial judge narrowly construed the rape shield law, which is intended to hide the "alleged victim's past sexual conduct" in prosecutions. Only if the accuser's past conduct is with the defendant – in this case, Palmore – is this evidence admissible, and only if her consent is at issue.
There's a Superior Court precedent, however, that says the law can't be used to "exclude relevant evidence" that shows the "bias" of a witness or attacks that person's "credibility."
Because the trial judge held a hearing in chambers – away from jurors – after Palmore sought to introduce the evidence of the accuser's cheating, that means the evidence was not first deemed "speculation or conjecture," Olson wrote.
The judge was then supposed to determine if the evidence was relevant to Palmore's defense, "merely cumulative of evidence otherwise admissible at trial," and finally, whether it was "more probative than prejudicial."
According to Olson's opinion, the trial judge got the last prong wrong, ignoring the Superior Court's 26-year-old precedent from a case involving a defendant accused of sexually assaulting his foster brother:
This Court emphasized that the probative value need only outweigh the risk of unfair prejudice. That is, to constitute unfair prejudice, the evidence must "inflame the minds of the jurors." This distinction is crucial because evidence of the victim's past sexual conduct is always prejudicial. [citations omitted]
The 1998 case that provided the four-prong test also involved allegedly fabricated molestation charges.
The Superior Court said at the time that the purpose of admitting the accuser's sexual history – his alleged violation of his half-sister – was "simply to flush out the truth," not to impugn his character, label him "as a bad boy" or "seek retribution" against him.
Palmore was not trying to label his accuser "a promiscuous college student" by seeking to introduce evidence of her infidelity to her boyfriend, Olson's opinion said.
His intention was not to shift the focus of the trial toward "the virtue and chastity of the victim," but challenge her credibility, particularly given the timing of her accusation.
The Superior Court has previously allowed this "timing" evidence to go forward without implicating the shield law, Olson wrote, and in this case, "the probative value of the evidence is relatively high" and risk of unfair prejudice, low.
The trial judge also botched a major factual issue, according to Olson: The accuser herself testified that she saw Palmore's Facebook messages to her boyfriend before reporting the incident to police.
It can also be "reasonably inferred" that her boyfriend was "unhappy" upon hearing about her alleged infidelity, contrary to the trial judge's finding.
It should be noted that Palmore is not getting a new trial because he had an expensive criminal-defense lawyer. The Intelligencer says he was represented by a public defender – a class of legal professionals who are chronically overworked and underpaid, yet are tasked with representing the people who can't pay for justice out of their own pockets.
IMAGE: ggw/Shutterstock
Like The College Fix on Facebook / Follow us on Twitter