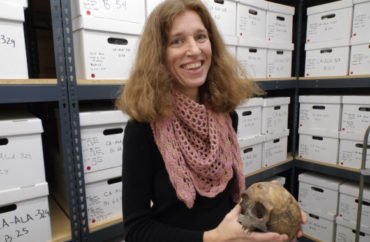 San Jose State University anthropology Professor Elizabeth Weiss continues to fight her employer in court to ensure her future as a scholar can continue without retaliation or obstruction.
She recently began teaching for the spring semester on the heels of a court decision late last year that allowed her lawsuit against the university to proceed.
The decision was a mixed bag for Weiss in that the judge ruled the materials she sought access to as part of her study and research — including X-Rays — can be restricted, as they have been deemed cultural and sacred objects by Native Americans.
However, the lawsuit was not tossed entirely — despite SJSU's motion to dismiss — meaning Weiss and her attorneys with the Pacific Legal Foundation are preparing for more court battles later this summer.
"The court dismissed a few of the defendants, basically on the theory that they were just underlings taking orders," Weiss's attorney, Ethan Blevins, told The College Fix via email.
"We disagree with that, but it's a relatively minor issue. … What matters most to us is that the lawsuit can move forward against the primary actors: her department chair, former dean, and the provost, all of whom played a role in disparaging Professor Weiss publicly and severely restricting her ability to conduct research."
San Jose State University's media relations told The College Fix that although the ruling allowed Professor Weiss' lawsuit to move forward, it "made clear that Professor Weiss is not permitted to second-guess state and federal law requiring human remains and related objects to be returned to Indigenous Tribes."
"And no claim of retaliation can include a change to the University's Presidential Directive on Interim Protocol for Curation Spaces or a request that the court interprets the scope of the California Native American Graves Protection and Repatriation Act. The university denies any claims of retaliation and will continue to vigorously defend itself in this matter."
Weiss has long criticized repatriation, in which Native Americans can claim bones and similar items and confiscate them for burial. Her stance has been deemed racist by some of her peers, as well as called "colonial violence" by Native Americans, but she argues there is much to learn from the remains.
Weiss, in an email to The College Fix, said she still looks forward to teaching as best she can this semester despite being refused access to important anthropological materials. A tenured professor, she has taught at San Jose State since 2004.
Weiss said her plans for the current semester include lectures on bone diseases, mummies, and more. However, she said she is unable to access the skeletal remains and X-rays that she has requested due to the ruling.
"This is unfortunate because there is information available that can be used as childhood health indicators, which I would have examined to try to correct misperceptions of how past people cared for their young and this information would also have forensic implications," Weiss said. "Children who die of possible abuse and neglect are checked for traits that anthropologists take note of in their examinations of skeletal remains."
Moving forward, Professor Weiss' greatest injury is not redressible, she said. The judge ruled the Native American tribes objecting to Weiss' access to the remains cannot be named in the lawsuit because of sovereign immunity under Federal Rule 19.
"This aspect of the judge's ruling did limit how much relief we can obtain for Professor Weiss," Blevins, Weiss's attorney, said. "We are proceeding forward, but with some serious limitations."
"We now are mostly looking to enjoin the university from taking further actions to limit her research, remove her from various committees and other department responsibilities, or restrict her academic freedom in the classroom and elsewhere."
The lawsuit contends Weiss' department chair has threatened to try and prevent Weiss from teaching her viewpoint of repatriation in the classroom, and that she has been barred from engaging in other scholarly activities, such as coordinating a speaking series.
"The university policies looked neutral on the surface. However, the university's actions clearly attacked Professor Weiss," Blevins said in a telephone interview. "The university adopted a policy, while also slandering Professor Weiss. That is not neutral."
Weiss and her attorneys must now prove the university took adverse action against Weiss, but since she is still a tenured professor, that might be difficult, he said. However, there may be a future threat of retaliatory action, so the issue is murky, he said.
To what extent can a university get away with "death by a thousand cuts" by slowly isolating Weiss and making her life miserable, Blevins said, pointing out she has basically been ostracized by her peers and administrators.
"This matters a lot for tenured university professors," Blevins said. "The university has found ways to get around the tenure and punish Weiss in a roundabout way."
The case may be resolved through summary judgment at the end of the summer, and if not, a trial could begin at the beginning of 2024, Blevins said.
"I'm very thankful to Pacific Legal Foundation for their support," Weiss said. "Regardless of whatever may come next, I am grateful that I have been able to spend my career reconstructing past people's lives and looking at bones to understand our present-day."
MORE: San Jose State anthropologist remains locked out of school's human remains collection
Like The College Fix on Facebook / Follow us on Twitter