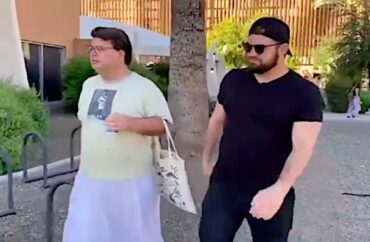 Professor initiated physical contact, but university is investigating TPUSA members
An Arizona State University professor who lunged at a Turning Point USA cameraman as he was followed, flanked and asked questions by another TPUSA activist about his fringe sexual proclivities alleges he was assaulted by the two activists.
The school is now investigating the national conservative college organization's actions as a possible hate crime.
English Professor David Boyles, dressed in a white, flowing full-length skirt (pictured), was approached on campus by two TPUSA members on Oct. 11 who "accused [him] of being 'attracted to minors,'" the State Press student newspaper reported.
Video posted to TPUSA's X account, which describes Boyles as a "self-professed 'sex education obsessed' queer" professor, shows the scholar refusing to answer questions and walking away as the two TPUSA representatives follow him closely and pepper him with questions.
Among the queries asked of Boyles were "how long have you been attracted to minors," "why do you write about it in children's books," and "why do you want to push sodomy onto young people?"
The TPUSA footage shows Boyles eventually lunges at the cameraman and tries to grab his phone, at which point the video cuts off.
However a video from a nearby security camera (below) picked up what happened next. It shows the other TPUSA member responding to the professor's attempt to grab the phone by shoving Boyles from behind. The professor is seen falling to the ground.
Boyles posted on Instagram that he was "jumped from behind and slammed onto the ground" by TPUSA, according to the State Press.
CBS-5 reports that Boyles wrote: "Knowing that they were filming in order to post this online and inspire even more harassment against me, I moved to block the camera. When I did so, the other one jumped me from behind, slamming me to the pavement."
A spokesman for the ASU Police Department reportedly said Boyles "was assaulted" by the TPUSA crew and officers are looking into a the matter as a "potential bias or prejudicially motivated incident."
MORE: Student protesters crash Turning Point USA meeting at Missouri high school
TPUSA spokesman Andrew Kolvet said the "video evidence is clear, Professor Boyles initiated a physical altercation because he didn't like the questions. Not liking a question is not justification for assaulting someone. The cameraman has since has called the ASUPD and will be pressing charges."
In an Oct. 14 statement, University President Michael Crow defended Boyles and condemned TPUSA.
"It is astounding to me that individuals from Turning Point USA would wait for an ASU instructor to come out of his class to follow him, harass him and ultimately shove him to the ground, bloodying his face. Cowards that they are and so confident in the legality and appropriateness of their actions, the Turning Point USA 'reporter' and 'cameraman' then ran away from the scene before police arrived," Crow stated.
"This is the kind of outrageous conduct that you would expect to see from bullies in a high school cafeteria," Crow stated. "I spoke with Dr. Boyles about what transpired when he was walking from his class to his car and I watched the video of the incident multiple times. It is stunning for Turning Point USA leadership to endorse, defend and fund such activity in the name of 'freedom.'"
Crow also defended Boyles as a valuable member of the ASU community's "spectrum."
"Dr. Boyles as an instructor at ASU teaches writing and English literature including a class which draws from LGBTQ+ literature. He is part of an academic community that appropriately engages our students across the entire spectrum of human experience and expression," Crow stated.
Boyles is listed on TPUSA's Professor Watchlist, which links to several posts about Boyles' activism and scholarship.
Boyles reportedly created "Drag Queen Story Hour-Arizona" in 2019 and claimed "the notion that drag shows are harmful to children [is] a 'myth,'" according to an AZ Free News post from September 2023 headlined: "Meet The ASU Professor Behind Arizona's Drag Queen Story Hour."
The watchlist also links to a May 2023 blog Substack post from Boyles in which he wrote: "Sex education is a topic I've been obsessed with for a while. … In 2021, I did a three-part 'Queering Sex Ed' series on the history of sex education in America and the ways in which it has traditionally erased queer people, as well as the ways in which queer people have resisted this erasure and cared for their communities by creating their own sex ed underground."
The College Fix asked ASU if it also plans to also investigate Boyles. It has yet to respond.
MORE: Leftist screams, kicks down table during Turning Point USA event
IMAGE: TPUSA/X
Like The College Fix on Facebook / Follow us on Twitter