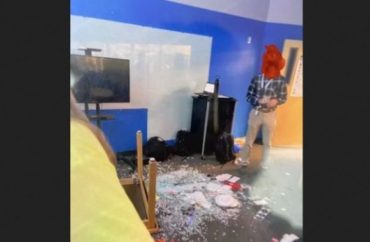 When students at a Missouri high school got together to discuss starting a chapter of the conservative organization Turning Point USA, they were met by protesting peers who jeered them and ended up shattering a glass table.
According to The Kansas City Star, when the politically conservative students met in the Lee's Summit West High School library on Tuesday, "many [other] students filled the library to protest, while hundreds more protested outside in the courtyard."
The demonstrators, who held LGBTQ flags and Black Lives Matter signs, said they were "worried" about having TPUSA at their school because it "espouses racist and anti-LGBTQ concepts."
The TPUSA meeting had to end prematurely as the situation "grew heated," which included a protester flipping over and destroying that glass table (pictured). A district spokesperson said the table incident was a "poor decision of an individual as the meeting was wrapping up," and was not "part of a protest plan."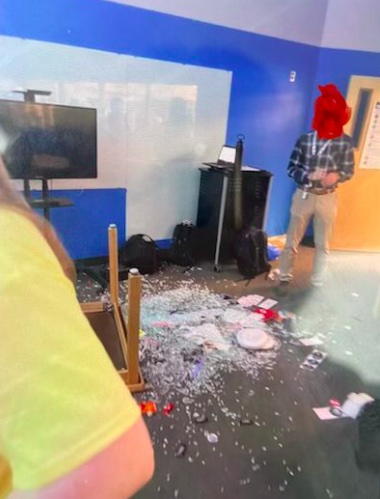 The district also said it is "processing the incident in accordance with district discipline policy" and that "students returned to class peacefully and there was no further disruption to the school day."
MORE: Two professors threaten peer for advising Turning Point USA chapter
TPUSA noted on its website that Lee's Summit West Principal Chad Hertzog's message to parents about the incident made "no mention of the violence, unprofessionalism, or intimidation from left wing students":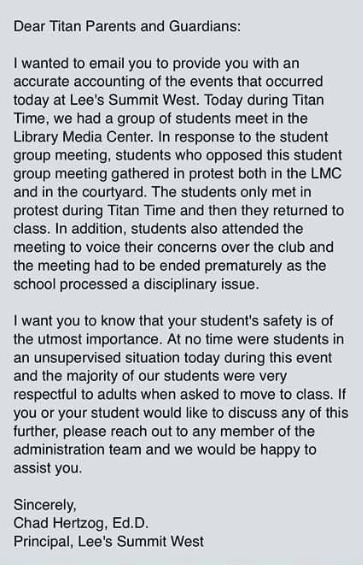 It is more common to find Turning Point chapters on college campuses, where members say they want freedom to speak their conservative views — sparking protests. Former Kansas State University student Jaden McNeil, whose offensive tweets in 2020 about the murder of George Floyd drew protests, was president of the Turning Point chapter at that campus. He recently stepped down from a white nationalist organization.

Turning Point has been meet with controversy as Kirk uses issues of race to rally supporters. Last year, [group founder Charlie] Kirk went on a "Critical Racism Tour," in which he argued Critical Race Theory is racist and amounts to "systemic racism" in schools. Critical Race Theory is a college and law school-level framework for evaluating the impact of racism on key institutions, and it is not taught in K-12 schools. …

The group recently drew attention when the suspect in the mass shooting at a Buffalo supermarket allegedly endorsed "great replacement theory," an unsupported, fringe idea that claims immigration was a plot to take power away from white people.
The Star points to a Washington Post story which said Kirk has praised Fox News host Tucker Carlson for "promoting" the great replacement theory. Carlson addressed the theory on Tuesday:
MORE: Student progressives' attempt at Rutgers to deplatform TPUSA fails
IMAGES:  TPUSA.com screencap; Pete Mundo/Twitter screencap
Like The College Fix on Facebook / Follow us on Twitter