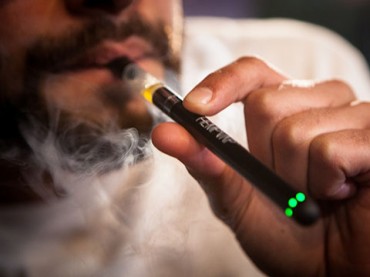 The University of Arizona is slated to become a smoke- and tobacco-free campus next month, according to an email sent to university students last week.
Under new regulations, all "forms of tobacco or nicotine – including pipes, cigars, cigarettes, and e-cigarettes, all types of smokeless tobacco, and water pipes – will be prohibited" on campus, according to the latest update to the university's smoking and tobacco policy.
Smoking cessation aids "such as nicotine gum, patches, and nasal sprays" will still be permitted on campus.
The ban will extend to all university property, including the main campus, the Arizona Health Sciences Center, Phoenix Biomedical Campus, UA South and all satellite campuses, along with parking structures, university-owned, leased or operated vehicles and property.
All university students, employees, affiliates, associates, contractors, volunteers and visitors on campus are subject to the new rules.
The new policy takes effect Aug. 15. Public comments can be submitted through Sunday to Vice President for Human Resources Allison Vaillancourt, according to Tucson News Now.
The change in policy is intended "to promote health and wellness of all members of the University community," according to the email, sent to students July 16 notifying them of the impending change.
Prior to the ban, the university already had stringent regulations on smoking on university property.
According to the previous policy, smoking was prohibited "in all buildings owned or leased by the University" and "within 25 feet of building entrances, exits and fresh air intake grills, and in seating areas of assembly occupancies such as stadiums, or any area where flammable materials are handled or stored, or where other significant fire hazards may exist."
Students have had mixed reactions to the institution of the ban.
"The fact that they are banning all tobacco products is crazy," sophomore Kevin Uznanski, who does not smoke, told The College Fix. "I think that the policy will work to a certain degree, but it will not eliminate all tobacco use on campus."
One of the main arguments against the policy is that it bans the use of e-cigarettes, which do not contain tobacco, although some in the medical field view the devices as a smoking cessation aid.
"Banning electronic cigarettes is just too much," Uznanski said, noting that the devices – which emit vapor, not smoke, and whose use is known as "vaping" – have a minimal effect on bystanders.
A recent study by British researchers found that "people who wanted to quit smoking were about 60 percent more likely to succeed if they used e-cigarettes compared to would-be quitters who tried an anti-smoking nicotine patch or gum," according to a May report from HealthDay News.
The university will join 176 other universities and colleges banning the use of e-cigarettes, according to a list updated July 3 that's maintained by the American Nonsmokers' Rights Foundation.
Enforcing the ban and punishing offenders could prove to be difficult due to the ambiguous language of the new policy.
"The success of this Policy depends on the entire campus community and its members being willing to hold one another accountable," the latest draft states. "Whenever possible, concerns about tobacco and nicotine use should be respectfully addressed at the time such concerns arise."
If the offending individual does not comply, the informant is supposed to alert the "appropriate unit for review and action."
Students who are found in violation of the policy will be referred to "the appropriate college student representative for educational resources."
University employees, affiliates, associates, volunteers and contracted workers will be referred to their supervisors or employers for "appropriate action."
Visitors found smoking "may be required to leave the campus if they fail to conform to the Policy."
"I don't think that this policy will last long," Uznanski said, "that is if students even decide to abide by it."
This change in policy comes at a time where it is increasingly common for institutions of higher education to be smoke- and tobacco-free.
At least 1,372 campuses across the country are smoke-free and 938 of those campuses are tobacco-free, according to the American Nonsmokers' Rights Foundation's July 3 update.
College Fix contributor Julianne Stanford is a student at the University of Arizona.
Like The College Fix on Facebook / Follow us on Twitter
IMAGES: Kannaway Photo/Flickr, JR P/Flickr