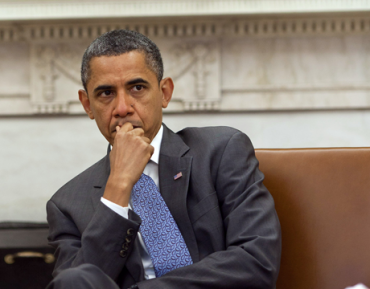 It's been three months since President Barack Obama debuted his making college affordable plan, and reception to the proposal remains chilly and skeptical.
When President Obama sent his Undersecretary of Education Martha Kanter to California last week to sell his ideas, they were met with resistance from several students and professors at a Cal State Dominguez Hills forum, where some said the plan could negatively effect low-income students and create more problems than it aims to solve, the Los Angeles Times reports.
"They are cures worse than the disease," one history professor proclaimed about the proposal, which calls for a new campus ratings system based on factors such as average tuition rates, student debt, graduation and transfer rates, and the percentage of low-income students receiving federal Pell grants.
Under the proposal, students who attend higher-ranked colleges would be eligible for larger and cheaper federal loans. But critiques from both Republicans and Democrats abound.
Some warn college officials may engage in grade inflation or falsity data to gain a better federal ranking. Others suggest the proposal would promote cheap online classes and largely benefits businesses, not students. The plan would also create a new level of bureaucracy and government regulation, according to naysayers. Still there are those who suggest an arbitrary college-ranking system could curtail innovation and possibly lead to federal price controls.
At the recent Cal State forum, Thomas Fallo, president of El Camino College, said Obama's plan would hinder low-income students who can only really choose the college that's closest to them geographically, regardless of its federal ranking.
And David Feldman, chairman of the economics department at the College of William & Mary, has warned of the proposal: "They have to be really careful that they don't provide perverse incentives for schools to discriminate against the kinds of students" they are trying to help.
The plan comes at a time when federal student debt has increased significantly over the past few years – an increase of 463 percent since President Obama took office in 2009.
But the plan does not address what many contend is the true cause of that increase: which is that the federal government subsidizes the college-loan industry, giving colleges an incentive to raise tuition costs, as administrators know the government can pay whatever each student cannot afford.
Meanwhile, the prospects of Obama's plan passing a dysfunctional and gridlocked Congress are very slim, especially since, as the plan sits now, it would not take effect until two years after Obama leaves office. It remains to be seen when the proposal will go before Congress, but it has yet to be schedule for a hearing.
Fix contributor Andrew Desiderio is a student at George Washington University.
Click here to Like The College Fix on Facebook. / TWITTER: @CollegeFix