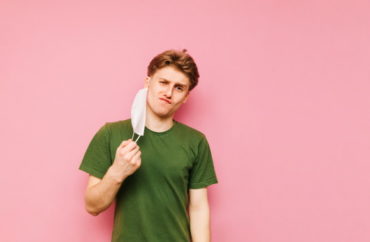 SUNY New Paltz Professor Jessica Nydia Pabón-Colón drew online ire in early August after a tweet surfaced of a portion of her syllabus regarding her intent to enforce mask-wearing policies in her classroom for the fall semester.
"Refusing to mask indoors is a manifestation of ableism and racism … that tells the most vulnerable that their health does not matter," wrote Pabón, a women's, gender and sexuality studies professor at SUNY New Paltz. "We can not provide an equitable and just atmosphere for learning if we are not protecting each other by masking."
Pabón noted the wording was not final, and did not respond to requests for comment from The College Fix.
.@newpaltz professor says she will require masks even though university policy is mask optional. She then accuses students who don't want to mask of being racist and ableist pic.twitter.com/6zZMApzVRC

— Libs of TikTok (@libsoftiktok) August 10, 2022
Pabón is not the only professor to tie masking policy to race-related concerns.
The College Fix recently covered Northern Illinois University physics Professor Jahred Adelman's requirement for students to mask in his classes.
Interestingly, Adelman's rationale for requiring masks is nearly a word-for-word copy of Pabón's—referencing the same language about ableism and racism.
As the fall semester launches and the drop in new cases that began in July continues, some institutions are moving away from masking and vaccination requirements, while others maintain a hardline approach. It's causing stances like those of Pabón's and Adelman's to make headlines.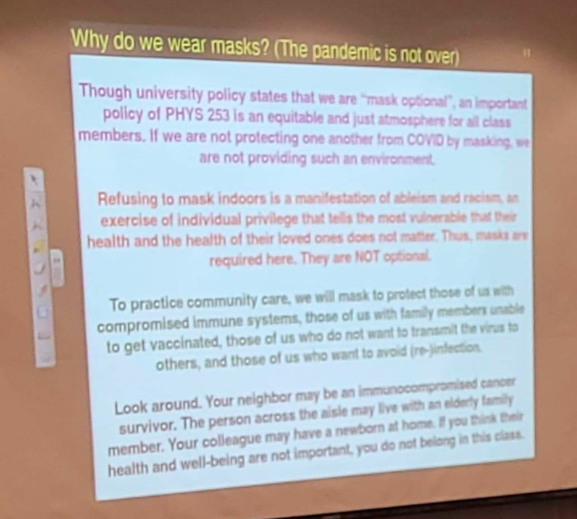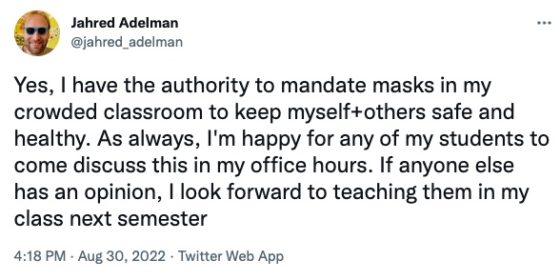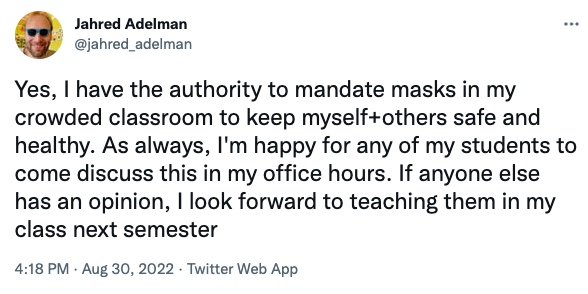 Some online media sites lambasted Pabón, with sports media company Outkick labeling the move to require masking as "absurdist" and "nonsensical drivel," also dubbing related tweets Pabón made about privilege as "laughable" and "virtue signaling."
As American colleges come out of the COVID-19 pandemic, the CDC has relaxed its policies on mask-wearing as COVID-19 cases drop.
While official CDC guidelines still recommend masking for those using indoor public transportation, official data show a decline from August 2022 in COVID-19 cases, hospitalizations, and deaths. Approximately 67.6 percent of the U.S. population is fully vaccinated against COVID-19, including 77.4 percent of Americans over 18. No states still require the general public to wear masks, although some requirements still exist for workers in healthcare facilities.
Despite this general ease in restrictions, academic institutions have taken a wide variety of stances in regards to masks and COVID-19 vaccination. Florida State University does not require students to test, vaccinate, socially distance, or wear masks on campus, merely requiring that students who do test positive for COVID-19 isolate.
On the restriction-heavy side of the spectrum, all students at SUNY New Paltz are required to be vaccinated against COVID-19, although religious and medical exemptions are available. Masks are optional in most parts of the New Paltz campus, although faculty like Pabón have discretion to require them in their classrooms.
New Paltz' website, however, points out that the college will not enforce masking requirements or bring charges against students who do not comply with masking policy.
MORE: Black academics refuse to wear anti-coronavirus face masks due to racial profiling
IMAGE: .Bodnar Taras / Shutterstock
Like The College Fix on Facebook / Follow us on Twitter