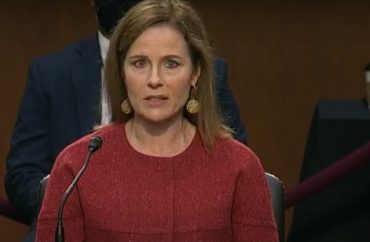 Apologizes to everyone for tweeting or deleting
Kappa Delta's national organization has issued an apology for congratulating Judge Amy Coney Barrett, a member of the sorority at Rhodes College, for her nomination to the Supreme Court.
The sorority tweeted on September 28 a congratulations to Barrett, several days after President Donald Trump officially nominated her to fill a vacant Supreme Court seat.
The tweet read: "KD alumna Amy Coney Barrett was nominated to serve on the Supreme Court. While we do not take a stand on political appointments, we recognize Judge Coney Barrett's significant accomplishment. We acknowledge our members have a variety of views and a right to their own beliefs."
The tweet has since been deleted. Kappa Delta released an apology the next day, apologizing to people offended by the post and people offended by its removal.
"Our approach was disappointing and hurtful to many," the sorority wrote in a graphic.
"We did not intend to enter a political debate, take a stand on the Supreme Court nomination, cause division among our sisters, or alienate any of our members," it said.
The sorority then praised itself for beginning earlier this year "an intentional journey for the betterment of our organization." It thanked people for "holding us accountable."
Followers chimed in, thanking or criticizing the sorority.
"I am embarrassed she is in any way associated with our sisterhood," wrote feminist author Amy Siskind. "She does not stand for our values, and that goes well beyond a half century old decision. But [sic[ I appreciate national addressing the hurt this has caused."
I am embarrassed she is in any way associated with our sisterhood. She does not stand for our values, and that goes well beyond a half century old decision. but I appreciate national addressing the hurt this has caused.

— Amy Siskind (@Amy_Siskind) September 29, 2020
Another commenter wrote "What's disappointing is that you let yourself be bullied and showed that 'once a KD always a KD' isn't true… Amy Coney Barrett, regardless of her political affiliation, is a Kappa Delta sister."
The commenter said Barrett "deserves acknowledgement for her achievement from her sorority."
"Disgraceful."
MORE: Villanova professor pens error-filled commentary about Amy Coney Barrett
IMAGE: Fox News/YouTube
Like The College Fix on Facebook / Follow us on Twitter