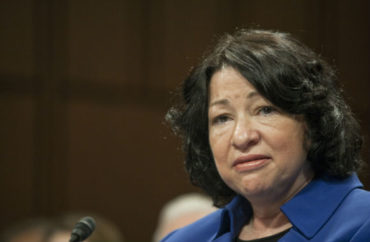 New York court previously ruled that Jewish university isn't religious
Yeshiva University does not need to recognize a proposed campus LGBT club pending legal challenges, Supreme Court Justice Sonia Sotomayor announced on September 9.
The Jewish New York University appealed to the U.S. Supreme Court to ask it to stop an order from a New York state court that required it to recognize the YU Pride Alliance, in contradiction to its religious beliefs.
The court did not make a decision on whether or not to hear the case.
The trial court ruled that the university must recognize the LGBTQ group. The trial court also held that Yeshiva University is not a religious entity and is therefore not entitled to the exceptions from anti-discrimination laws that faith organizations are often provided.
The New York Court of Appeals declined to review the denial of a stay, leaving the federal Supreme Court as Yeshiva University's only remaining chance to be granted a reprieve from being required to accept the club.
The university declined to recognize the LGBT group because to do otherwise "would be inconsistent with Yeshiva's religious environment and Torah values," according to a recent Supreme Court filing.
Yeshiva University is a "Torah-based institution of higher education."
Its students are immersed in the Torah and Talmud throughout their day, with the campus observing Shabbat and Kashrut. It desires to uphold its religious beliefs and "the religious formation of its students in the Jewish faith," according to the filing. This includes upholding the Torah's teachings on homosexuality and transgenderism.
MORE: TN Tech theatre group hosts Christianity-mocking drag show
"A stay is essential because the trial court ordered Yeshiva to recognize the club 'immediately on pain of contempt,'" Yeshiva counsel Eric Baxter of Becket Law told The College Fix prior to Sotomayor's decision. "Without a stay, Yeshiva would thus be in the impossible position of having to violate its religious beliefs or risk contempt of court."
Becket Law is representing Yeshiva University.
While Yeshiva's application for a stay focused on religious liberty, Baxter told The Fix that Yeshiva has also raised concerns about violations of its freedom of speech and freedom of association in its litigation.
Furthermore, Baxter expressed concern of the slippery slope that could follow a decision in favor of YU Pride Alliance.
"Among other things, the New York City Human Rights Law prohibits discrimination on the basis of religion," he told The Fix. "Yet religion-based decisions are at the heart of what defines a religious university. Yeshiva would not only be at risk of having to recognize a wide range of clubs that are inconsistent with its religious values, but would also potentially be at litigation risk for myriad other decisions it makes that favor Judaism over other religions."
"Other religious universities would face the same risks for making decisions based on their own faith traditions," Baxter told The Fix.
"The YU Pride Alliance remains committed to creating a safe space for LGBTQ students on YU's campus to build community and support one another without being discriminated against," Katie Rosenfeld, an attorney for the law firm representing the group, wrote to The College Fix.
The Fix emailed the club's email to ask for comment on the Sotomayor ruling.
MORE: 'Priest on duty' ministers to Indiana University community
IMAGE: K2 Images/Shutterstock.com
Like The College Fix on Facebook / Follow us on Twitter