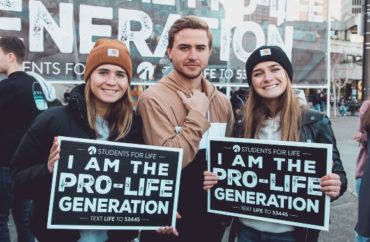 Students for Life has taken aim at a number of Christian universities that promote abortion
A pro-life organization has notched another victory as part of its goal to sever ties between Christian universities and the abortion industry.
"St. Norbert College in De Pere, WI, is no longer one of these campuses," Students for Life of America announced in an April 28 blog post.
"We are pleased to report that St. Norbert recently removed the link after we launched our initiative to eradicate the abortion industry from faith-based colleges and universities across the country," Samantha Kamman said.
Another Christian college removes Planned Parenthood from their website due to pressure from @StudentsforLife.

This is why we do what we do! Accountability is good, especially when it ends partnerships with Planned Parenthood. https://t.co/tPK99VYVWC

— Kristan Hawkins (@KristanHawkins) April 28, 2021
A February 2021 post provided more detail on the relationship. While the reference can no longer be seen on the external link, it appears that the university had a month-long advocacy calendar for December 2016, tied into the Advent season. Advent refers to the time, spanning four Sundays, that leads up to Christmas.
"Saint Norbert College, a Christian college, is promoting Planned Parenthood as a resource," an activism link explained.
The nation's largest pro-life student organization has been looking to end the "unholy partnership" that exists between the abortion industry and some Christian colleges, as previously reported by The College Fix.
"The abortion business has no place on college campuses, period, but religious institutions especially should serve as a shining example of what it means to defend the dignity of all people," the pro-life organization said in its victory post.
The Catholic Wisconsin college also reportedly promoted internships at pro-gay marriage and pro-abortion organizations, according to a 2009 National Catholic Register article.
MORE: Notre Dame pushes vaccine tested on aborted baby fetal tissue
IMAGE: Students for Life of America/Facebook
Like The College Fix on Facebook / Follow us on Twitter