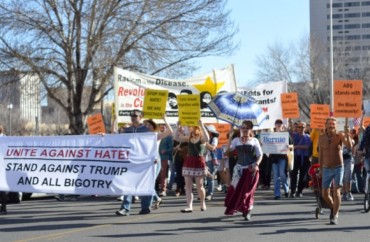 ALBUQUERQUE, N.M. – More than 200 activists crowded the Albuquerque Civic Plaza on Sunday afternoon to rally "against Trump and all bigotry" – a demonstration that brought together a wide assortment of college students and left-liberal activism groups in a call to "dump Trump" the day after the Republican presidential contender won the South Carolina primary.
The rally was organized by Albuquerque United Front Against Hate, a coalition of progressive community organizations, which merged communist college clubs, pro-choice advocates, Muslim and Catholic representatives, teachers unions and Bernie Sanders supporters in its "Unite Against Hate" event.
Protesters – about 50 percent of whom appeared to be millennial-aged – held signs with slogans such as "Feel the Bern" and "Racism is the symptom. Capitalism is the disease. Socialism is the cure" as they marched.
The front of the pack was adorned with a large banner that read "Unite Against Hate. Stand Against Trump and All Bigotry." Supporters chanted in unison "Hey, hey! Ho, ho. Racism has got to go!" and "One, two, three, four – kick the racist out the door!"
Prior to the event, flyers touting the march were posted at the University of New Mexico, and many
student groups took part, including campus clubs such as Bernie Sanders at UNM and the Red Students Faction. Others represented at the event included the Islamic Center of New Mexico, Blessed Oscar Romero Catholic Community, the Albuquerque Teachers Federation and National Organization for Women.
Marissa Sanchez, a senior and sociology major at the University of New Mexico, told The College Fix she came to "support and stand in solidarity with all the different communities."
High school student Andres Anderson said he came to represent "Anonymous," an idea he said is meant to showcase those who cannot show their support. Anderson and his two college-aged friends wore black attire and Guy Fawkes masks with a large anarchist symbol as they marched.
RELATED: Professor at Catholic university asks students on final exam: Is Trump the Anti-Christ?
Former University of New Mexico student Jairo Marquez, 25, told The College Fix he came because he is offended by Trump referring to illegal immigrants as "rapists." And UNM student and MEChA member Josh Heckman said if Trump is elected president, he will fight his policies.
"When you have a quasi-fascist like Trump, leaving the country is not the best option," Heckman said. "Staying here and fighting against that hatred rhetoric is the most important thing to do."
The rally concluded with speakers representing various organizations, poetry readings, a prayer, and a call against hate and bigotry, with marchers raising their fists in the air for "peace." The final words: "We may want to bury Trump, but we can't. But we can still dump Trump!"
Not all student groups from the University of New Mexico were represented at the rally.
Ryan Ansloan, chairman of UNM's Young Americans for Freedom and a member of Young Americans for Liberty, told The College Fix his groups did not take part.
"I do not at all support Donald Trump. … If this was a simple rally that lived up to its name and actually 'stood against hate,' then I would have no qualms with marching," he said in an email. "This, unfortunately, was a smear campaign attempting to tie capitalism, republicans and conservatism to Trump. This was about promoting a political agenda in the most disappointing view."
Like The College Fix on Facebook / Follow us on Twitter
IMAGES: The College Fix