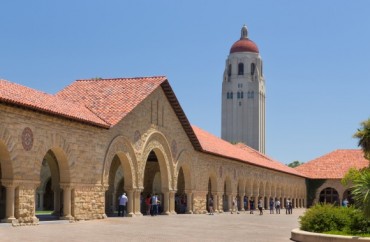 Potential editor in chief called on paper to embrace bias
The Stanford College Republicans published two screenshots they argue proves The Stanford Daily is a "leftist propaganda outlet masquerading as an impartial news source." The screenshots are of a platform written by a candidate running for the position of editor in chief of the student paper.
The post also included two screenshots of a candidate's platform for editor in chief. The screenshots of the platform show the candidate, a current staff member of the paper, calling on the publication to embrace outright that it is a leftist publication, a viewpoint that already "permeates throughout the paper."
"Shirking away from this or pretending that we offer truly unbiased reporting is not only intellectually dishonest, but also hinders us from pursuing the topics and ideas that matter and can make a difference," the candidate wrote.
He also called on the paper's news team to "offer a corrective in the form of more diverse opinions around campus."
In their Facebook post published Sunday night, the College Republicans accused the paper's reporters of stalking the group's private events, publishing "completely false stories," and defending "the violent anti-Semitic RA, Hamzeh Daoud," who apologized and stepped down from his position as resident assistant after posting on Facebook that he wanted to "physically fight" Zionists.
The Stanford Daily responded with a letter from the paper's current Editor in Chief defending the paper's reporting, writing that the "internally-circulated documents do not articulate the views of The Daily as an institution," and the candidate's positions are debated and questioned throughout the election process.
"As is the norm at newspapers nationally, The Daily maintains a firm divide between its News and Opinions sections," editor in chief Courtney Douglas responded in her letter.
"As with all other papers, despite our best efforts, we occasionally slip out of the objectivity that our craft demands, or otherwise make mistakes," she continued. "In these cases, we are transparent in our corrections and unrelenting in our quest to do better in our future coverage."
She also addressed the controversy surrounding Daoud, and wrote that the College Republicans conflated the paper's news coverage with its editorial stances.
"This only reveals that the group either misunderstands, or refuses to see, the news-editorial divide that ensures reporting free of bias," she wrote.
MORE: New tweets show Stanford RA called for dismantling of Israel
IMAGE: Shutterstock
Like The College Fix on Facebook / Follow us on Twitter