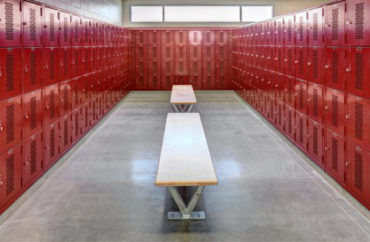 Stanford University officially debuted its new all-gender locker room last Friday, completing a process which began last August.
The room, located at the Arrillaga Outdoor Education and Recreation Center, is "meant to provide a more inclusive environment" and is open to anyone "regardless of gender identity," according to The Stanford Daily.
Assistant Athletic Director for Facilities and Operations Rebecca Carpenter told the Daily the space is a response to a community which has been "more vocal about all-gender spaces" and is part of the university's goal of "gender-inclusive" restrooms in all campus buildings by 2020.
Present at the Friday opening was the Weiland Health Initiative, creator of the Gender Inclusive Stanford initiative which "brings together a wide range of staff, faculty, and students to understand the necessity of a gender inclusive campus and […] respective roles to play in creating that reality." Weiland's Caroline Zha said that "there aren't a lot of spaces for students who feel uncomfortable going into either a male or a female bathroom to carry out basic bodily functions."
Bobby Radecki '20, another Weiland Health Associate, said that spaces like the gym and the pool, where students might be wearing revealing athletic clothing, "can be especially distressing to folks who are trans and gender non-conforming who might not be totally comfortable with their bodies."

"Athletic facilities can really be a place of high stress, and so having the gender-neutral locker room is definitely a positive step in helping to alleviate that," Radecki added.

However, Brandon Alvarez '19, a resident of the unofficially LGBTQ+ -themed campus co-op Terra, told The Daily that although they is "ecstatic" that the University is creating and promoting spaces for the trans and gender non-conforming communities, "much work still needs to be done if the community is going to feel welcome in said (and similar) spaces."
Alvarez referred to locker rooms as "historically unwelcome places" and hoped the AOERC facility is just the beginning of making such areas "more amicable and open to the community at large."
MORE: UC Berkeley to build $2.7M 'gender-inclusive' locker room
MORE: NCAA suggests men who identify as men could use women's locker rooms
IMAGE: BBrown / Shutterstock.com
Like The College Fix on Facebook / Follow us on Twitter