UPDATED
Backlash led to retraction, new initiatives to demand free speech, academic freedom
Members of Stanford University's information technology department once offered a "financial reward" to those who flagged and reported "racist terminology" on university websites.
The offer was part of a "Statement of Solidarity and Commitment to Action" program that debuted in 2020, but the financial incentive was raised during a late-January faculty senate meeting during which professors voiced alarm over what they contend is a growing Orwellian atmosphere on their campus.
Stanford scholars also cited the school's "Elimination of Harmful Language Initiative," the IDEAL Anti-Racism Toolkit pushed on campus and the university's relatively new "Protected Identity Harm Reporting" system as alarming projects stifling both free speech and academic freedom.
The faculty senate on Feb. 9 voted to create an "Ad Hoc Committee on University Speech" to review these ongoing concerns and present solutions.
The late-January faculty presentation came on the heels of nationwide blowback to the university's 13-page "Elimination of Harmful Language Initiative," first reported on in December 2022 by The Wall Street Journal.
The initiative, one aspect of the "Statement of Solidarity and Commitment to Action" program, drew widespread criticism for stating more than 125 words, including common ones such as "addict," "American" and "trigger warning," should be eliminated from school websites.
While campus brass mostly brushed off the national criticism as an overreaction to a minor IT department effort, the faculty presentation argued it was much more than that.
It pointed out campus leaders behind the "Statement of Solidarity and Commitment to Action" and "Elimination of Harmful Language Initiative," represent "senior-most technical leaders" of all schools and units, and that their efforts included a "multi-year, multi-phase project" to scan all Stanford websites, including "both external-facing and internal-facing sites."
"Many faculty perceive [the Elimination of Harmful Language Initiative] as a broader threat to academic freedom," state the faculty presentation slides, a copy of which was provided to The College Fix.
Seven Stanford web domains were scanned for harmful words last year, a December 2022 news release stated, adding "the process for working with content owners for remediation is still in a planning phase."
The financial incentive has since been removed and reworded.
Moreover, the "Elimination of Harmful Language Initiative" website has been taken down, and media representative Stett Holbrook told The College Fix the initiative is "being re-evaluated and is not operational."
The College Fix emailed Holbrook on Feb. 15 and asked if any financial rewards were provided to employees for turning in others for using harmful language. He did not respond.
Stanford engineering Professor Juan Santiago told The Fix the plans to study threats to free speech were put in motion when "77 faculty signed a petition to bring a motion before the Faculty Senate" over the winter break.
Russell Berman, another Stanford professor who has expressed concerns about speech restrictions, told The Fix that "one senior faculty member reports feeling that 'he is walking on eggshells' when he delivers lectures, so now he is careful to avoid making any jokes. This is part of the chilling effect of EHLI."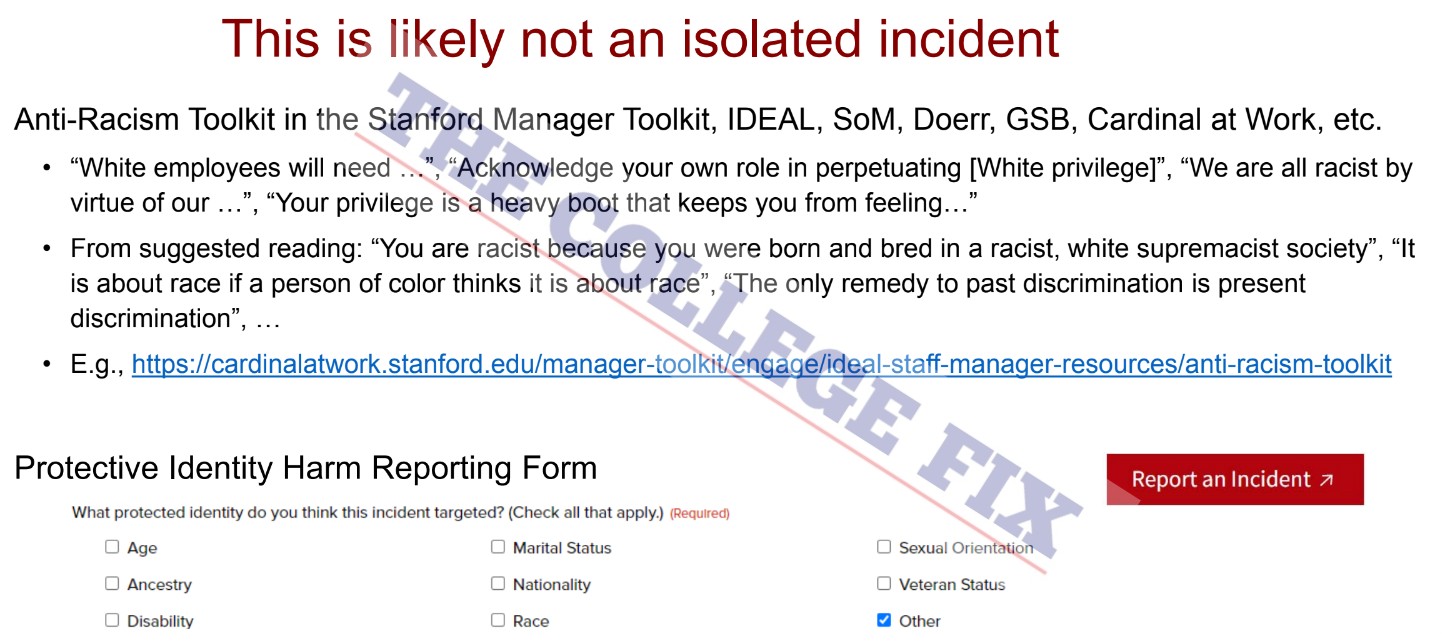 In addition to the politically correct language guide, Professor Santiago said he and his peers are concerned about Stanford's IDEAL Anti-Racism Toolkit and Protected Identity Harm Reporting System.
The anti-racism toolkit draws heavily from Ibram Kendi's book, "How to be an Antiracist." One of the document's headers reads "free speech doesn't mean free reign," with the document later stating "maybe you can't change minds, but you can close lips. And curb behavior."
The Protected Identity Harm Reporting system encourages students to report "incidents of bias" in which "a community member experiences harm because of their identity."
As The College Fix also reported, "the system is similar to bias response teams found on campuses nationwide, but critics argue Stanford administrators quietly established the system relatively recently without faculty input, and civil liberties watchdogs argue it can be punitive in nature and chills free speech despite campus officials' insistence it does neither."
The new "Ad Hoc Committee on University Speech" is expected to issue a report during the 2023-24 academic year, and the resolution to create it also states there "shall be an interim report to the senate that explains the process by which this committee shall conduct its work."
A political scientist at Sarah Lawrence College said the faculty pushback against free speech infringements is good news on campus.
It "is one of the first times faculty on their home campus have publicly declared their opposition to omnipresent and precarious administrative overreach," Professor Samuel Abrams wrote for Minding the Campus.
He called it a "positive step forward to finally see a group of faculty who are ready to take a stand against dangerous and irresponsible behaviors on the part of activist administrators."
"Hopefully, other faculty will follow Stanford's lead and showcase how education, viewpoint diversity, and open inquiry should work by embracing debate and difference," Abrams wrote.
The move also comes on the heels of an Academic Freedom Conference hosted by the Stanford Graduate School of Business in November 2022.
Editor's note: Professor Berman's name has been corrected, it is Russell. 
MORE: Stanford 'Protected Identity Harm' reporting system prompts concerns
IMAGES: Stanford faculty presentation
Like The College Fix on Facebook / Follow us on Twitter