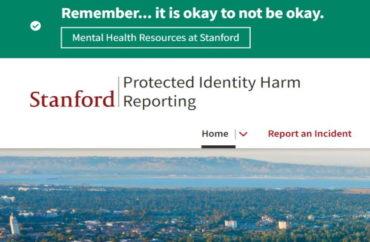 'Anonymous reporting systems are reminiscent of some of the worst periods in human history,' professor said
Stanford University now encourages students to report "incidents of bias" in which "a community member experiences harm because of their identity" through its Protected Identity Harm Reporting system, which is causing some controversy on campus.
Students can anonymously report "microaggressions to macroaggressions" that occur either on campus, off campus, or online, according to an October 2022 Stanford news report.
"Examples of PIH incidents could include targeting a student with racist remarks on social media, making sexist jokes at a party, defacing fliers about LGBTQI+ rights, or calling someone an ableist slur," the university's website states.
The system is similar to bias response teams found on campuses nationwide, but critics argue Stanford administrators quietly established the system relatively recently without faculty input, and civil liberties watchdogs argue it can be punitive in nature and chills free speech despite campus officials' insistence it does neither.
"Anonymous reporting systems are reminiscent of some of the worst periods in human history. Despite the good intentions of those behind PIH, this system will harm Stanford's culture," said accounting Professor Ivan Marinovic in an email to The College Fix.
Marinovic said the system was "not widely debated at Stanford" before its implementation and most faculty only recently learned of it.
"There needs to be more faculty oversight of these initiatives, which pop out of university bureaucracies that do not seem to understand the nature and mission of the institution they work for," he said.
The Protected Identity Harm Reporting system is among several projects that have recently alarmed faculty.
A campuswide "Statement of Solidarity and Commitment to Action" IT program that offered financial incentives to report harmful words on Stanford websites to campus authorities coupled with a 13-page "Elimination of Harmful Language Initiative" to eliminate the use of more than 125 mostly innocuous words also caused concern.
So much so that the Faculty Senate on Feb. 9 voted to create an "Ad Hoc Committee on University Speech" to review these ongoing concerns and present solutions.
With regard to administrators' argument that the Protected Identity Harm Reporting system is entirely voluntary, Graham Piro, a program officer for campus rights advocacy with the Foundation for Individual Rights and Expression, told The College Fix "an administrator asking the student to engage in a remediation process, especially one triggered by protected expression, may not be interpreted as an entirely voluntary process by the student."
The Protected Identity Harm Reporting process addresses "incidents where a community member experiences harm because of who they are and how they show up in the world," including the targeting of an "actual or perceived" characteristic such as race, color, sexual orientation and gender identity or expression, according to its website.
Launched in 2021, the reporting program reviewed at least five incidents during the 2021-22 academic year, according to an online dashboard.
The website notes the dashboard "only includes PIH incidents that affect the greater Stanford community and likely invoke public safety concerns."
The dashboard for the 2022-23 academic year features five incidents from last fall—one completed and four under review.
The list does not include the recent reporting of two Stanford students photographed reading Adolf Hitler's "Mein Kampf" in January, although the incident was reportedly filed through the PIH system.
FIRE expressed concern over the university's response to the filing, which consisted of the Office of Student Affairs and the Office of Religious and Spiritual Life working with the students involved.
Stanford Vice President and General Counsel Debra Zumwalt told FIRE in a letter Feb. 1 that the university was "engaged in conversation with a number of students, seeking to provide support and foster communication."
Zumwalt noted that "the university has not mandated any meetings or discussions," reflecting the PIH Reporting system policy that responding parties "have a choice to participate (if at all)."
The procedure is "not an investigatory or judicial process," according to the PIH Reporting system FAQ page. The two goals of the process are to help the reporting party "heal from a potentially painful situation" and the secondary goal of "data collection," a record of PIH reports that provides a "deeper understanding of the campus climate regarding diversity, intolerance and free expression."
The university did not respond to multiple requests for comment from The College Fix.
Piro said that "FIRE has long been concerned that Stanford's Protected Identity Harm reporting system may chill speech on campus, especially when the university encourages members of Stanford's community to submit incidents, according to the PIH's FAQ."
"We urge Stanford to ensure it is not investigating protected speech, or suggesting complaints about protected speech may warrant formal administrative intervention," he said.
"In cases where a complaint is filed concerning only protected speech, administrators can still support the complainant without notifying the speaker," said Piro, adding universities should fully investigate complaints of alleged actionable discriminatory harassment or another policy violation.
MORE: Stanford offered financial reward to report harmful words to campus officials
IMAGE: screenshot
Like The College Fix on Facebook / Follow us on Twitter