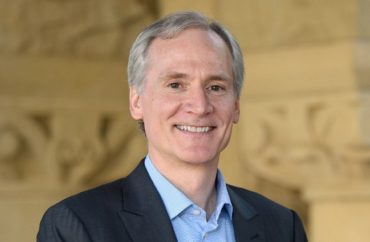 Potential misconduct includes allegations of intentionally misleading errors in a 2008 paper
Stanford University is overseeing an investigation into the research integrity of its own president, Marc Tessier-Lavigne.
Four neurobiology papers co-authored by the president, a prominent neurobiologist, are now under review for alleged scientific misconduct regarding altered images and other errors in several scientific journals.
The European Molecular Biology Journal, a prominent scientific publication, "confirmed to The [Stanford] Daily that it is reviewing a paper co-authored by [Tessier-Lavigne] for scientific misconduct following public allegations that the research contains multiple altered images."
The College Fix reached out to the journal via email on December 1 to confirm that there is reason to suspect Tessier-Levigne of wrongdoing and to ask whether the other ten authors of the paper might be similarly implicated.
Bernd Pulverer, head of scientific publications, responded to The Fix that the journal has "contacted the authors to obtain further information and will contact the relevant research institutions according to our detailed policies and due diligence process."
However, "it would be premature of us to comment on your specific questions at this time," Pulverer stated.
The journal wrote in a public post that it is is "aware" of and investigating the controversy following allegations of potentially intentionally misleading errors in a 2008 paper about brain receptors in which Tessier-Lavigne (pictured) is listed as the third author of 11, according to The Stanford Daily.
"The EMBO Journal is aware of these issues and is looking into this," the post from the journal read, in response to a series of postings on PubPeer, an online blog in which scientists had discussed the integrity of the research.
Tessier-Lavinge has served as president of Stanford since 2016, according to his university bio.
Facundo Batista, EMBO's editor-in-chief, confirmed the investigation in emails with The Stanford Daily, writing that the journal has already "evaluated" the issues raised on PubPeer and "as a consequence" is "currently engaged in a full due diligence screen."
"The public acknowledgement marks a rare step for EMBO, which is regularly rated among the top journals of its field by Scimago Journal Rankings and receives almost 3,000 submissions per year," according to The Daily. "The journal has retracted papers based on PubPeer allegations without first publicly acknowledging an ongoing investigation."
In response to the Stanford Daily article, Stanford announced a misconduct investigation centering on "certain scientific articles," including two papers in Science and one in Cell dating back more than 20 years," according to Science magazine.
Tessier-Lavigne stated he never intended to mislead with data
"I want to be clear that I have never submitted a paper without firmly believing that the data were correct and accurately presented," Tessier-Lavigne wrote in a December 5 letter to faculty. "I also want to be clear that I take responsibility for any concerns that arise with respect to any work with which I have been involved. I trust that a thorough examination will fully address the concerns that have been raised and will affirm my commitment to the highest standards of scientific integrity."
Stanford spokesperson Dee Mostofi told The Daily on November 28 that Tessier-Lavigne "was not involved in any way in the generation or presentation of the panels that have been queried" in two of the papers, and that the issues in the other two "do not affect the data, results or interpretation of the papers."
Elisabeth Bik, a biologist and science misconduct investigator, disagreed. ​​
"Dr. Tessier-Lavigne will not brush off these concerns as irrelevant," she wrote in an email to The Daily. "There appear to be a lot of visible errors in these papers, and some duplications are suggestive [of] an intention to mislead."
The concern over Tessier-Lavinge's research dates back to 2015.
For the past seven years, public allegations about the research integrity of Tessier-Lavinge's papers have been posted on PubPeer, according to The Daily. This eventually brought the 2008 EMBO paper for which Tessier-Lavigne is the third author out of eleven, to the journal's attention. The errors in this paper, which involve image duplication, demonstrate "an intention to mislead," Bik said.
The other three papers include a 2001 study with Tessier-Lavigne as first author, which has intentional photoshopping, according to Bik, and two more papers that also include misleading image duplication.
It is unclear how long these investigations will take, but there could be serious consequences for Tessier-Lavigne, according to The Daily.
MORE: More than 1,000 professors sign on to 'Stanford Academic Freedom Declaration'
IMAGE: Stanford
Like The College Fix on Facebook / Follow us on Twitter