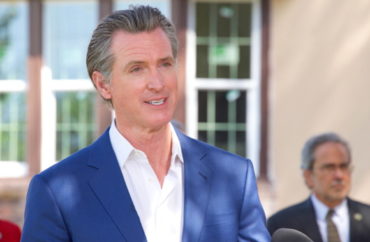 California's governor has criticized Governor Ron DeSantis for limiting faculty speech
Stanford University academics can now testify in a November trial relating to COVID remote learning loss, particularly for racial minorities and low-income families, after California officials dropped their sanctions.
The California Department of Education originally told Professor Thomas Dee that his planned testimony would be a breach of his contract as it related to data sharing and access to a state system. Professor Sean Reardon was also going to testify but the CDE threatened him with a similar breach of contract charge and withdrew his testimony.
However, the state has since dropped its efforts. "The reason they pulled back wasn't that they suddenly read the First Amendment," attorney Mark Rosenbaum told the media. He is representing plaintiffs in the learning loss lawsuit, called Cayla J. v. California. "It's because they knew they were gonna lose," Rosenbaum said.
The state had "threatened to fine Thomas Dee, a prominent education researcher, up to $50,000 and to seek other sanctions against him," according to media reports.
The California Department of Education has not responded to two College Fix inquiries in the past week that asked if Governor Gavin Newsom's office had intervened one way or another on the case and if there would be any long-term changes to data sharing contracts to ensure academic freedom is protected.
The College Fix reached out to Professor Reardon and Professor Dee prior to the block being lifted, for further comment on their research and the language in their contracts. Neither responded to the inquiries.
According to a judicial summary of Dee's research, the professor found a "'dramatic' decline in enrollment following the pandemic, which cannot be explained through traditional factors."
The court wrote that the declines found by Dee were "particularly large" for certain groups, including "vulnerable students (i.e., homeless, socioeconomically disadvantaged) and among certain racial-ethnic groups (i.e., African-American, American Indian/Alaskan Native, White)."
MORE: Stanford docs justify abortion because some kids will have problems
One reason, as detailed in the findings, is 800,000 to 1 million students may have lacked the ability to access remote learning, due to obstacles such as quality Internet or a laptop to use. The state, according to the lawsuit, did not provide the funds to address these obstacles.
Professor Reardon "would have been asked to testify about the Education Recovery Scorecard, the learning loss research that he co-authored," according to EdSource. "It too relies on publicly available data from California and 39 other states, and, Reardon said, does not use any data provided to the [Learning Partnership Institute for its research project."
Governor Gavin Newsom's office has not responded to a media request for comment on the case. Prior to the end of the gag orders, The Fix asked if he planned to intervene in the case and how these restrictions related to the criticism he has levied against Florida Governor Ron DeSantis for his efforts to place limits on certain race and sexuality teaching in the classroom.
In April, Newsom visited the New College of Florida, where Gov. DeSantis has appointed conservative trustees in a bid to reshape the classical liberal arts school into a top-notch institution.
"Books are banned. Speech is limited. Faculty are scared. Students are bullied," he wrote on X at the time. "This is just a small dose of what's to come," he wrote.
"We have plenty of challenges in the state and I own every single one of them," Newsom said during his visit, as reported by the Tampa Bay Times. "The last guy — truly the last guy — I'm interested in the lecture from is Ron DeSantis when it comes to foundational principles that he claims to champion."
We're about to celebrate Independence Day — but Freedom is under attack by Republican leaders in states like Florida.

Banning books.
Restricting speech.
Making it harder to vote.
Criminalizing women and doctors.

It's time to stand up. Don't let them take your freedom. pic.twitter.com/cFI5UzgZzX

— Gavin Newsom (@GavinNewsom) July 3, 2022
Later in July, Newsom continued his criticism of DeSantis.
"We're about to celebrate Independence Day — but Freedom is under attack by Republican leaders in states like Florida. Banning books," Gov. Newsom posted on X in July. "Restricting speech. Making it harder to vote. Criminalizing women and doctors. It's time to stand up. Don't let them take your freedom."
MORE: College students struggle with basic course load
IMAGE: Sheila Fitzgerald/Shutterstock
Like The College Fix on Facebook / Follow us on Twitter