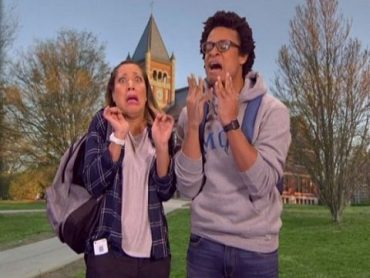 Satirical posters deemed 'hate speech,' removed by dorm RAs
Some Stanford University students felt "unsafe and hurt" and were apparently brought to tears over satirical flyers defending ICE agents hung in the Kimball Hall dorm.
That according to the student who hung them, Isaac Kipust, who writes he was subsequently summoned before Associate Dean of Students Alejandro Martinez and his aggrieved peers to answer for his actions.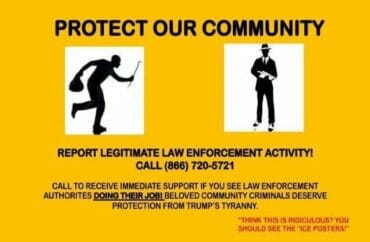 "[S]ince three students felt unsafe and hurt, they and the Kimball RAs had removed my flyers," Kipust wrote in a column for the Stanford Review.
"According to them, my flyers were 'hate speech' and hence inappropriate for the Kimball community. Because they apparently mocked a flyer protecting an identity group, they constituted an act of intolerance. Most egregiously, because of their effect on the three crying students at the table, I was not permitted to repost my flyers," he wrote about what he was told during the meeting.
He added he was surprised to be told that "feelings trumped my right to express speech others might find objectionable," a finding he felt was in direction opposition to Stanford's policies on free speech.
So Kipust called in some muscle to assist him in defending his free speech rights in a subsequent meeting with Lead Residence Dean Lisa De La Cruz-Caldera. To wit, Professor Peter Berkowitz, a free speech expert at Stanford's Hoover Institution, came with him to the meeting, and Kipust also procured a "strongly worded" defense letter from Stanford law Professor Michael McConnell.
However, Cruz-Caldera "conceded that it was wrong for staff to take down my flyer, and went even further, stating that no flyer containing speech protected by the First Amendment should ever be removed for its content. Laudably, she is now working to shape a new policy on flyers in dorms that will prohibit restrictions on content," according to Kipust.
Stanford University did not respond to requests from The College Fix seeking comment on this matter.
In a statement to The College Fix, Kipust said he is ultimately pleased with the outcome.
There were "initially some missteps as my flyers got taken down but I've heard strong commitment to free speech from other administrators and President Tessier Lavigne," Kipust said.
"The issue I see is ensuring that free speech is protected by residential staff across campus," he told The Fix. "It's up to the people who interact with students most in their daily life."
The entire affair had been prompted by something of a poster war in Kimball Hall in late January.
Initially some students had hung yellow anti-ICE flyers posted throughout the dorm urging people to call the Santa Clara Rapid Response hotline number to report any ICE activity in the area. Then some unknown person, not Kipust, ripped one down and replaced it with a "#Build The Wall" sign.
That prompted students, with the help of MEChA de Stanford, to respond by re-posting some 200 anti-ICE posters in retaliation. And that had ultimately prompted Kipust to create and post his satirical fliers defending ICE agents.
MORE: Stanford University course to study 'abolishing whiteness'
Like The College Fix on Facebook / Follow us on Twitter