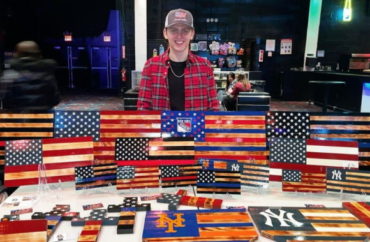 'I don't regret it, I love what I do, and I hope more kids start to realize that you don't need a college degree to be successful'
Like most college students living under strict COVID-19 pandemic restrictions, Jason Nichols was a bored student with a lot of time on his hands.
Nichols, 21, who attended the Staten Island-based St. John's University, was faced with an extra abundance of free time as New York had some of the most extreme lockdown ordinances in the nation, shutting down gyms, restaurants and other venues.
However, he was determined not to let this time go to waste, he told The College Fix in an interview.
That's when, coincidentally, weeks before Independence Day in 2020, Nichols began seeing ads for handcrafted wooden American flags, which looked "bland and commercialized, lacking bright colors, vibrancy, and true craftsmanship," he said.
Suddenly, an idea popped into Nichols' head: "Hey, that doesn't look too difficult, I think I could make that," he told The Fix about his idea to launch a business producing hand-crafted patriotic wood designs such as flags.
Nichols, who was pursuing a business degree, did not possess a background in woodworking, but he had a creative idea, a passion to explore it, and supportive family and friends that would help him try out this new venture, he said.
"I wasn't really sure what I was doing, but I kept researching, using YouTube and other websites, to try and perfect the process," Nichols said.
"I have to thank my uncle for letting me borrow his tools when I first started, and my grandparents for letting me use their garage when I started needing more space," he said.
It took Nichols a few weeks to get his new business off the ground, but with more practice, he began to streamline the process, and things started really taking off, he said.
"I was just making sales to family friends or through word-of-mouth advertising, but when I got on social media, sales started going crazy, it was easy to get overwhelmed," Nichols said.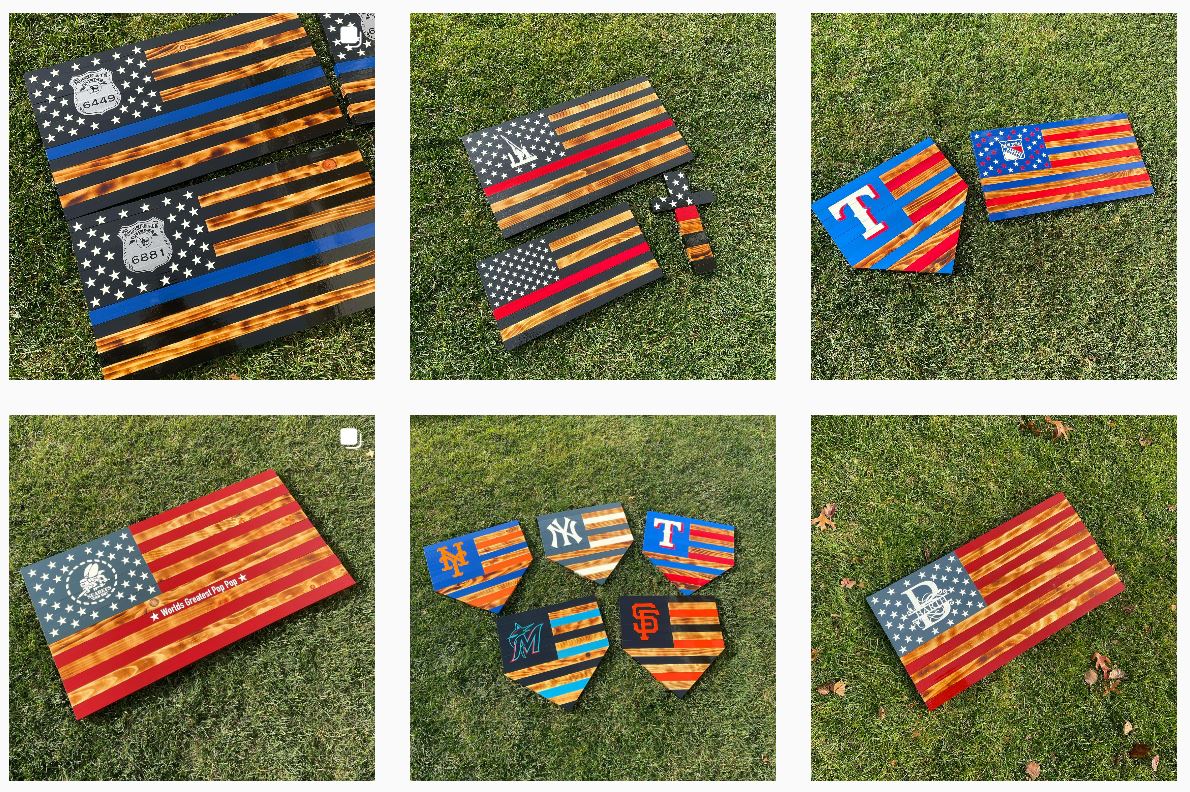 As the business grew, Nichols began to face competition from larger companies in the industry. He responded by making his flags fully customizable.
His company's website allows customers to "pick specific colors, inscriptions, logos, and sizes."
"Customers have requested flags with schools, businesses, branches of the military, and sports team logos," he said.
Nichols even started to create wooden crosses and wooden home plates.
He began calling his business "Old Glory Designs," and made an Instagram page to commemorate the name.
"There's nothing more patriotic than our beautiful American flag, and I want to show respect for everything our flag represents," Nichols said.
As fall of 2020 rolled around, Nichols' business was booming, and he had a decision to make.
His classes were still remote, and he found himself "losing valuable working time" sitting at his computer listening to online lectures and completing assignments late into the night, he said.
"I started to think, why am I listening to my teacher tell me how I can run a business one day, when I already own one," Nichols said. "And I was learning more in the garage, actually running a business, than I ever would learn sitting in class."
That's when Nichols decided to make the difficult decision to drop out of school to focus his attention on Old Glory Designs.
"My parents tried to change my mind, my mom often reminds me that I'm the only person to drop out of college with almost 100 credits and almost a 4.0 GPA," Nichols joked.
"…But I already had my real estate license, enough credits for my Associates Degree, and my business was doing really well, it just wasn't worth paying the tuition anymore."
And, Nichols encourages more students like him to do the same.
"The only way you're gonna learn is by actually trying something, not sitting at a desk listening to a lecture. If you have a good idea, take a risk," he said.
"I never understood why I was learning 'business' from people who never actually owned a business. The textbooks can only teach you so much," he continued.
Making these flags often gives him an opportunity to honor his dad, a retired NYPD lieutenant.
"My favorite flag to make is the 'Thin Blue Line' flag, I get to honor my dad and police officers like him that don't always get treated respectfully in this country," Nichols said.
Steven Nichols, Jason's father, told The Fix "I'm proud of my son for so beautifully and patriotically representing the brave men and women who protect us every day."
In an interview with the Staten Island Advance, Jason Nichols said one of his favorite parts of the job is "when a customer tells [him] the impact one of [his] flags had on [them]."
"Nothing is better than hearing that one of my flags brought a tear to the eye of a veteran or first responder. Although I've heard this many times, it never gets old. Knowing that I could make a hero, a veteran, or first responder happy, even for one second, makes this job extremely fulfilling," he told The Advance.
As of now, Nichols has no plans to go back to school, and is happy with the decision he made.
"I don't regret it, I love what I do, and I hope more kids start to realize that you don't need a college degree to be successful," he told The Fix.
Nichols said his longterm goal is that "every American household can proudly display our country's beautiful flag" and he hopes that his company can "play a small role in making that happen."
MORE: Professor who teaches class bashing capitalism earns $170,000 annually
IMAGE: Old Glory Designs Instagram screenshots
Like The College Fix on Facebook / Follow us on Twitter