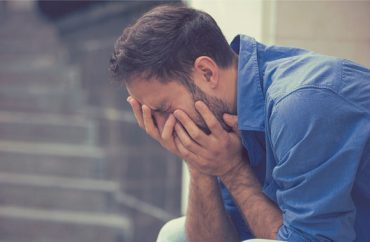 On December 12, my life changed forever.
I became aware that my name was on a "List of Men to Avoid," compiled by a fellow student at Middlebury College, Elizabeth Dunn. It included the names of male students who had allegedly violated the boundaries of female students at Middlebury, based on accusations sent to Dunn on Facebook.
Each of the 36 names on the list was accompanied by a label in parentheses. Mine read "rapist."
For the past two months, I've dealt with the social and psychological fallout of being anonymously branded a rapist on a small liberal arts campus.
I've wracked my brain to figure out what I could have done that a sex partner perceived as rape. I did everything Middlebury tells students to do in order to obtain sexual consent.
Most of my close female friends have abandoned me, and other friends continually make excuses to avoid me. I even considered suicide.
Other men named on this list told me they don't want to speak out, even anonymously. They want to move on and forget that Elizabeth Dunn publicly branded them as purveyors of sexual violence without any evidence. It is a very fragile time emotionally for these students, and I respect their decisions to stay silent.
But the public needs to hear one of our stories, so I'm going to share mine.
Faithfully followed Middlebury's definition of 'consent' 
It is hard to describe what exactly I was feeling in the initial moments after seeing my name on a "List of Men to Avoid." It was a mix of shock, anguish and anger, but also puzzlement: Why would someone feel the need to post this?
The next few days on campus were exhausting, to say the least. Many students seemed to be jumping to the conclusion that I was guilty of something. Every time I would leave my dorm, it felt as if all eyes were on me.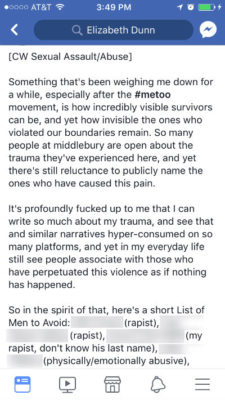 Though my male friends knew not to believe the anonymous accusation against me, my female friends have responded differently.
The week after the list was posted, I texted about 10 girls whom I consider close friends to promise that I did not violate someone's consent. (None was a sexual partner.) Two texted me back that they knew I was a good person and would never do something like Dunn claimed. One asked me a lot of questions, but nonetheless affirmed her faith in me.
The other seven have yet to respond; this silence left me pretty devastated.
I've had five sexual encounters in my time at Middlebury, and always asked consent questions such as "Are you comfortable?" and "Is this okay?" during sex. All of them willingly came to my room and gave me verbal affirmation that they wanted to have sex.
This is in keeping with the college's definition of consent as "Words or actions, freely and actively given by each party, which a reasonable person would interpret as a willingness to participate in agreed-upon sexual conduct."
MORE: Dunn faces expulsion for evidence-free rapist list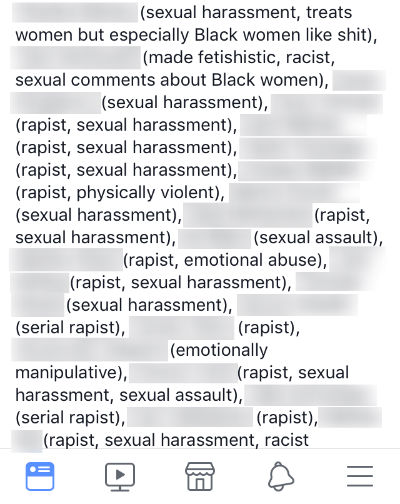 None of my partners has ever voiced to me that they felt uncomfortable during sex. Until this list was published, I was on a cordial basis with each and would say hi whenever I saw them on campus. It's possible someone could have been uncomfortable at some point, but did not voice that to me in the moment. If that is the case, I am truly sorry and I'll be even more communicative going forward.
But I strongly believe that my sexual encounters followed Middlebury's clear definition of consent. Dunn's secondhand accusation is completely false, as I have always made it a priority to listen to what each of those five sexual partners wanted to do sexually and will continue to do so.
Suicidal thoughts followed by therapy
Though it has been more than two months since the list was posted, things are far from normal.
I've been more fortunate than some students who have been falsely accused, with a pretty good support system to help me through this difficult time. But several people have distanced themselves from me.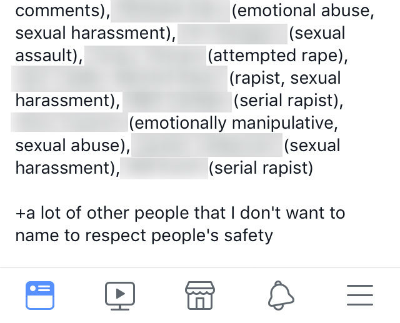 If I reach out to grab coffee or a meal, they will give me far-fetched excuses to avoid having to engage in a one-on-one interaction. I believe this is because they feel pressured by friends in social activist circles to not talk to anyone on the list.
Depression has become omnipresent in my day-to-day routine. I have thought about taking the semester off and even transferring and finishing what I have left of my education elsewhere.
MORE: Student kills himself after UT officials tar him for no reason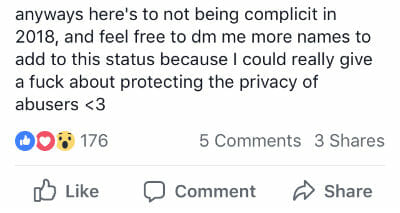 I have become extremely anxious and started reading into seemingly small actions of other people, such as someone looking at me the wrong way, using an unintended tone during a conversation or not responding to a text message.
After considering suicide, I started seeing a therapist regularly, which is bizarre to me because I had never seen myself as someone who needed to talk to a professional.
'Believe the victim' based on rumors
The fact that Dunn claims to have been inspired by the #MeToo movement really bothers me. With Dunn's own refusal to engage in conversation with others about the names posted, I question what Dunn's true motive was behind the creation of this list.
I think the #MeToo movement is fantastic, and believe that those who assault others should be severely punished for their actions. However, I hesitate to voice this opinion for fear of being called a hypocrite. I find myself in a hopeless and difficult position.
Even before Dunn published this list, our current political climate inflamed students' responses to claims of sexual assault. With serial perpetrators finally being held accountable for their actions, our culture has been told to always "believe the victim."
MORE: Kangaroo courts driving young men to 'become suicidal'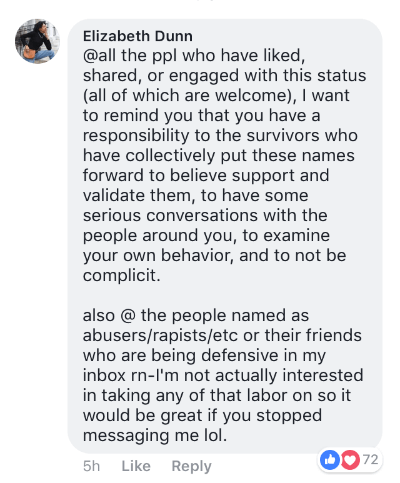 Yet how should we respond when a person like Dunn, with whom I've never spoken in my life, adds my name to a blacklist based on rumors and hearsay? Dunn made no effort to verify these claims with me or anyone else.
I'm not surprised that students at a liberal arts college can become so engrossed in their passions for certain movements that they are blinded to the chaos those movements cause. But aren't we all told from a very young age to not believe everything we see on the internet? How is this any different?
To its credit, the Middlebury administration has done its best to aid all parties involved in this predicament.
Victims have always been encouraged to report sexual misconduct to the Judicial Affairs office. But in the aftermath of Dunn's list, Katy Smith Abbott, the dean of the college, emailed students to warn that "public allegations should not take the place of our established procedures" to investigate claims "thoroughly and confidentially," so that "all parties are treated fairly."
Dunn's Facebook post was the exact opposite of treating parties involved fairly. Perhaps in the interest of fairness, Middlebury should implement even more mandatory sexual education for male, female and non-binary students in the curriculum.
We are currently required to watch such educational videos before we start freshman year, but that obviously isn't enough. Students should be fully aware of legal definitions around sex and consent, and not take them so lightly that they make accusations against people who should be their allies against sexual assault.
The author is a student at Middlebury College who was identified as a "rapist" on Elizabeth Dunn's "List of Men to Avoid."
MORE: Anti-rape activists publish hoax accusation against innocent student
IMAGE: pathdoc/Shutterstock
Like The College Fix on Facebook / Follow us on Twitter