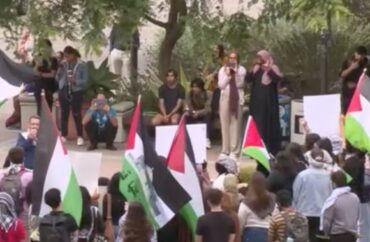 Genocide is 'committed with intent to destroy, in whole or in part, a national, ethnical, racial or religious group'
While calling out Israel for "genocide" is now a familiar campus refrain, activists' misuse of the term is misleading and potentially harmful.
Accusing Israel of "genocide" for its war actions in the Gaza strip and prior actions in the Middle East has become commonplace on universities and in academia around the country.
In the first week of November, students at the University of Pennsylvania projected pro-Palestinian slogans onto several campus buildings, including "From the river to the sea, Palestine will be free" and "Penn funds Palestinian genocide," according to The Daily Pennsylvanian. 
The Associated Press reported that at a UCLA pro-Palestinian rally in October, the crowd chanted the popular slogan,  "Israel, Israel, you can't hide: We charge you with genocide."
At Stanford, about 20 students participated in a "Sit-In to Stop Genocide" in support of Palestinians, camping outdoors in shifts day and night for at least two weeks beginning shortly after Oct. 7, The College Fix reported.
Professor Danny Shaw of in the department of Latin American and Caribbean Studies at City University of New York referred to Israeli Zionists in October as "straight Babylon swine" and "arrogant racist bullies" and Zionism as a "genocidal disease" in a now-deleted series of tweets on X in October, The Fix reported at the time.
The term "genocide" was invented by Polish lawyer Raphäel Lemkin in 1944 and consists of Greek prefix genos, meaning race or tribe, and the Latin suffix cide, meaning killing, according to the United Nations.
The UN's 1948 Convention on the Prevention and Punishment of the Crime of Genocide defined the term and established genocide as an international crime. According to the convention, "genocide" means acts "committed with intent to destroy, in whole or in part, a national, ethnical, racial or religious group."
The Genocide Convention also established that "genocide is a crime that can take place both in time of war as well as in time of peace," according to the UN. Its definition "has been widely adopted at both national and international levels," and countries are globally accountable to honor it.
Israel's stated war objective of eliminating Hamas is not genocidal according to this definition because Hamas is a military-political organization, not a "national, ethnical, or religious group," or a whole people.
When students or professors say Israel is "genocidal" in this sense they ignore or disregard the nation's declared war objectives and the goals of its military campaigns over the past several weeks.
Harvard Law School Professor Noah Feldman wrote Wednesday in The Atlantic in support of this conclusion.
"Israel's conduct toward the Palestinian population in Gaza and elsewhere does not…manifest an intent to destroy the Palestinian people, in whole or in part," he wrote. Therefore, claims of Israeli genocide "do not satisfy the legal definition…certainly not as it would be adjudged by any international tribunal today."
The Economist wrote Nov. 10 that Israel "does not meet the test of genocide."
"There is little evidence that Israel, like Hamas, 'intends' to destroy an ethnic group—the Palestinians," according to the magazine. "Israel does want to destroy Hamas, a militant group."
In contrast, "the organised butchery of perhaps 500,000 ethnic Tutsis by Hutu militias in Rwanda in 1994″ was genocide," according to The Economist. So was "the systematic murder of 6m Jews by the Nazis."
Even more, the acts of Hamas against Israel are genocidal, according to the UN's standard.
"By the UN definition, Hamas is a genocidal organisation," according to the magazine. "Its founding charter, published in 1988, explicitly commits it to obliterating Israel….Hamas fighters who burst into Israel on October 7th and killed more than 1,400 Israelis (and other nationalities) were carrying out the letter of their genocidal law."
While definitions of words change over time, political authorities most likely think of "genocide" in terms of its international, United Nations-given definition because it is accepted so broadly.
Even more, since anyone who has studied the history of the United Nations would have encountered the term, it seems implausible that students crying out against "genocide" wouldn't know that definition or all it implies.
Students and professors, at least the more informed ones, aren't accusing Israel of "genocide" in a loose or figurative way when the put the word on placards and yell it across campus. They are invoking international law, accusing Israel of criminal action — and they want the nation punished accordingly.
In their fury against Israel and the West, students have falsely charged it with one of the world's most serious crimes. They have invited not only merit international condemnation, but retaliation against vulnerable Israelis.
If students want to help civilians in both Israel and Gaza, they must evaluate military operations honestly and fairly. Yelling slogans loudly doesn't make them true.
MORE: Forty pro-Palestinian protesters arrested at University of Michigan
IMAGE: CNN/YouTube
Like The College Fix on Facebook / Follow us on Twitter