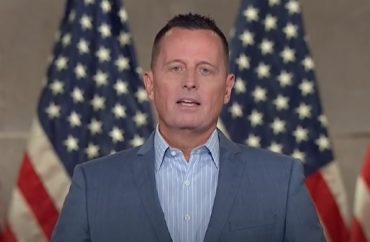 Richard Grenell accused of hate speech on Twitter 
Student activists at Carnegie Mellon University want the university to hold former Trump administration official Richard Grenell accountable for his tweets.
Signers of a letter sent to the administration include Women in Politics, the Muslim Student Association and CMU Men's Club Lacrosse. In total, about 30 groups signed the letter.
Grenell, a former U.S ambassador to Germany and director of national intelligence, started working at the private university in Pittsburgh in June as a fellow at its Institute for Politics and Strategy, though he is not on campus.
Among other accusations, students argue Grenell tweeted anti-Chinese rhetoric and bemoaned his criticism of masks. At its conclusion, it calls for him to be removed from campus.
"Mr. Grenell has damaged, and continues to damage, our reputation, our code of ethics, our community, and critical democratic institutions. We, the students of Carnegie Mellon University, condemn Mr. Grenell's actions. His continued presence in our community is unacceptable," the letter states.
Among its signers is a club sports team.
"As with any club—especially sports—we want to get back to normal as quickly as possible so we can actually participate in our activities," Kyle Bannerman, a leader in the club lacrosse team, said via email to The College Fix on Wednesday. "Misinformation and anti-maskers directly oppose this goal."
The university announced prior to the start of the semester that club sports could not compete or travel.
The Fix asked Bannerman if the club had taken a vote, but he said the club did not take a vote and that he acted alone.
"I made the decision myself. As the president, I am the voice of the team," Bannerman said.
The letter cited Grenell's tweets after the election on ballot harvesting and voter fraud. Students claimed that tweeting after the election "disenfranchise(s) United States citizens."
The letter also criticized Grenell for calling the coronavirus the "Chinese flu" in a number of tweets, including tweets critical of California Governor Gavin Newsom's handling of the virus.
Joe Gloria, a Clark County election official, says he cannot guarantee there isn't fraud in Nevada voting.

And he isn't allowing Trump team access to watch signature verification.

We are concerned they are counting illegal ballots – and not just LEGAL votes.

— Richard Grenell (@RichardGrenell) November 5, 2020
He has compounded the negative impact of the Chinese flu by shutting down businesses, and ignoring science based solutions.

California can do much better – we must end the one party control of Sacramento.

— Richard Grenell (@RichardGrenell) July 14, 2020
The student organizations even said that Grenell's tweets could have contributed to anti-Asian violence.
"This inflammatory rhetoric implicitly blames an entire ethnicity for the pandemic,
and Mr. Grenell's messaging has coincided with and likely contributed to an ongoing surge in hate crimes against Asians and Asian Americans," the letter said. It also criticized him for appearing maskless at events.
His tweets need investigation, the students said.
The letter said:
Academic freedom and intellectual diversity, the reasons CMU cited for the hiring of Mr. Grenell, are being undermined on our campus to protect Mr. Grenell. Neither protects hate speech, disinformation, or the behavior that Mr. Grenell exhibits on a regular basis. The 'intellectual diversity' that Mr. Grenell brings to our campus undermines public trust in critical national institutions, supports hate speech, and promotes selfish and ignorant behavior over common-sense public health guidelines.
In response, the university president, Farnam Jahanian, released a public message on December 3 addressed to the university community and included his response to the student activists.
Over the past several days, and especially following the U.S. presidential election, members of the university's senior administration have received a number of letters and emails regarding the activity of Ambassador Richard Grenell, senior fellow in the Institute for Politics and Strategy. In particular, I recently received a letter signed by 180 students and 30+ student organizations, which highlighted specific concerns related to Mr. Grenell's activity on social and news media.

I recognize that this matter is of interest to many in our community, and that it probes complex questions at the heart of our university's mission and the foundation of our democracy. With the permission of the students, I have decided to make both their letter and my response, below, public so that all members of the CMU community can understand their concerns and the university's position. I invite you to review both communications.

I greatly appreciate and respect the advocacy and passion of our students, faculty, staff and alumni who have reached out to me to express their viewpoints. We will continue to monitor these issues moving forward and in the coming days, we look forward to launching the Commission on Academic Freedom and Freedom of Expression. It is my hope that this commission will further aid our community in discussing and understanding the nuances of these foundational principles.
Jahanian addressed each of the complaints and defended Grenell's freedom to comment on political issues.
MORE: Harvard activists want restrictions on Trump alumni teaching, speaking on campus
MORE: Petition demands Georgetown develop 'accountability criteria' before letting Trump officials on campus
IMAGE: PBS NewsHour/YouTube
Like The College Fix on Facebook / Follow us on Twitter