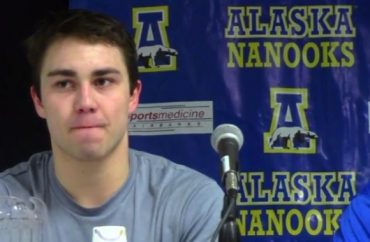 A former University of Alaska Fairbanks hockey player who was charged with and then acquitted of rape claims in a recently filed lawsuit that his university will not hand over his degree.
Allegations lodged by the former student-athlete in the suit, which also seeks $100,000 in damages, paint campus officials as somewhat vindictive in their effort to deny Nolan Youngmun his petroleum engineering bachelor's degree even though the young man has completed all the requirements for graduation, Alaska Dispatch News reports.
The controversy stems from a school under investigation and under pressure by the Education Department's Office for Civil Rights to do more to prosecute sexual assault complaints.
Youngmun was set to graduate in the spring of 2015 when he was accused of rape by a female peer. He was arrested — and banned from campus — in a case in which he claimed the sex was consensual while she did not. In February of this year, he was cleared of all charges after a trial by jury.
In April of this year, a judge also dismissed a grand jury indictment against Youngmun regarding a related case in which a woman, having heard of the 2015 case against Youngmun, then claimed that she, too, had been raped by him back in 2013, KTVF Fairbanks reported.
After that decision, Youngmun's attorney had said he hoped his client could finally move on with his life. Apparently not.
University of Alaska Fairbanks is holding on to his degree over the unresolved campus Title IX investigation related to the now-debunked rape claim, the lawsuit filed last week claims.
MORE: Father speaks out after college-athlete son cleared of rape: 'How many young men have to have their lives destroyed?'
The university's Title IX coordinator, Mae Marsh, is quoted as saying as part of the original probe against Youngmun that the "alleged perp graduates in three weeks, we need to get the administrative investigation concluded so we can make a preponderance call and expel prior to graduation," Alaska Dispatch News reports.
Youngmun was informed in the spring of 2015 that his graduation and degree "were to be held in abeyance" pending the outcome of the university's investigation, although he was allowed to "take his final exams and complete his final projects remotely."
"The former hockey player's attorneys argue, among other things, that nothing in the UA Board of Regents policy or regulations in effect at the time of the charges — or when restrictions were placed on Youngmun — allowed the university to withhold his degree until the end of their investigation," the Dispatch reports.
MORE: After 'six months of hell,' student accused of rape acquitted by jury
Like The College Fix on Facebook / Follow us on Twitter
IMAGE: YouTube screenshot