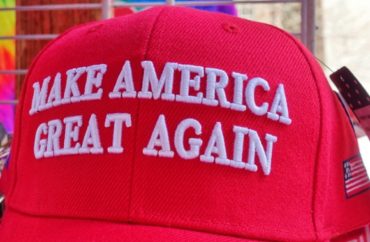 UPDATED
University of Florida student files police report over incident 
When 22-year-old University of Florida student Daniel Weldon sent a Snapchat to his girlfriend of his Fourth of July outfit — a Make America Great Again hat, American flag tank top, Trump pin and other patriotic regalia — she predicted he would get attacked.
Turns out, she was right.
As Weldon grabbed a late-night snack on July Fourth across the street from campus he said he was surrounded by a group of college-aged peers who verbally harassed him, pushed him, ripped a Trump pin off his shirt, and tried to swipe his MAGA hat.
"It just goes to show there is a lot of people on the Left that don't care or know anything about you, but they see one aspect of who you are and instantly have this blind hatred for you," Weldon told The College Fix in a telephone interview Sunday. "It's extremely disappointing."
On the evening of July Fourth, Weldon hung out with a buddy in a college-area bar called the Rowdy Reptile without incident, but then they parted ways and he went to grab a bite at the Pita Pit on University Avenue. As soon as he walked in, he said, a group of about seven college-aged customers started taunting him.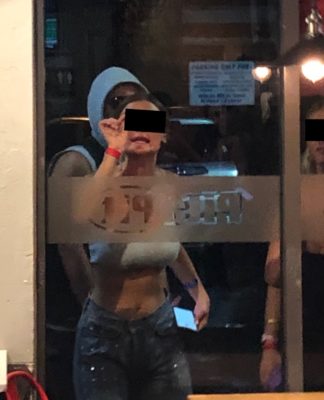 The females of the group mainly led the charge, calling him a racist and hurling other insults, he said. Things also got physical. He said one female pushed him, another ripped his Trump pin off his shirt, and someone tried to swipe his hat off his head.
Weldon, who played as a linebacker for the Gators and is 6'1 and 230 pounds, said in response he only grabbed his hat so it stayed on his head and picked his pin off the ground.
"My mamma raised me right, I am not going to touch a girl," he said.
He did, however, tell the taunters that Trump will win re-election in 2020. The exchange lasted several minutes, while the physical interaction was fairly brief, he said.
"I have been doing politics on campus for four years, so it's not like I am not used to people making comments," said Weldon, a proactive campus conservative and chairman of the Florida Federation of College Republicans. "I wasn't physically harmed. I was like, 'Yo, that was kind of messed up.'"
"I ended up going to use the restroom and they were waiting outside the door for me when I got out, still making comments about me and flipping me off from outside the window."
After the incident he spoke to a police officer stationed in Midtown, the college hangout area next to campus where this took place. Weldon said the officer told him it's not the first time a student has been harassed for wearing pro-Trump gear.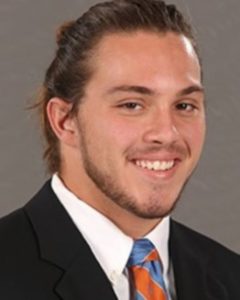 The next day, Weldon posted about his experience on Facebook. He received a lot of supportive feedback, but was also questioned about filing a police report. At first he didn't, because he was not hurt, he said.
But then he said he thought about it some more, especially the argument that while he was a "big guy" and could handle the situation, what if the next person couldn't?
With that, Weldon (pictured) filed a police report with the Gainesville Police Department on Sunday.
He provided photos of the perpetrators and encouraged officers to obtain footage of the incident from Pita Pit cameras and trace their identities through their purchases, he said.
"We are getting to the point where you have to stand up for what you believe," he told The Fix. "Some people may think it's not a big deal, but you can't go around trying to silence people for their beliefs."
Brad Barber, assistant director of the University of Florida Police Department, told The College Fix via email on Monday that the matter is not before campus officers.
"The Pita Pit is located off of the University of Florida campus and is the jurisdictional responsibility of the Gainesville Police Department," he said.
Editor's note: Updated with statement from UF police.
MORE: No jail time for student who stole peer's MAGA hat
Like The College Fix on Facebook / Follow us on Twitter