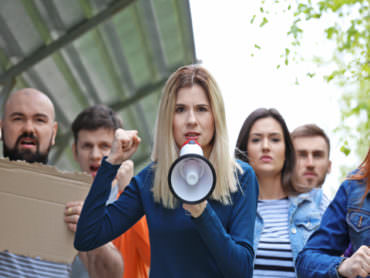 Cal Poly San Luis Obispo has rescinded the wrestling scholarship of a student who was caught on tape shouting a slur and making an obscene gesture during a counter-protest.
Bronson Harmon was attending a counter-protest to the "Families Belong Together" March in Modesto, California, when he was recorded yelling, "F**k you f**got" and displaying the middle finger to a passerby who was recording the counter-protest, The Tribune reports.
Harmon, 18, is seen on video holding a Donald Trump 2016 sign while shouting the slur and making the gesture. He told The Tribune that he "totally" regretted the slur.
"Saying what I said is definitely not the right thing," he told The Tribune, saying that he got caught up "in the heat of the moment."
"But I still feel like my freedom of speech was taken away, and I don't think my scholarship should have been revoked over something like that," he added.
Harmon was attending the counter-protest with his father and a friend, and the three were also allegedly involved in an incident after the video was taken. Harmon claimed that he saw a man trying to place a screwdriver behind a tire on his father's truck and confronted him. The man was allegedly pushed and fell against a tree, hurting his arm. He asked to press charges against Harmon, The Tribune reports. Harmon claims he never touched him. The D.A. has yet to press charges.
Harmon said that he heard from the wrestling coach at Cal Poly on July 2 that his scholarship was being revoked.
He still plans on attending Cal Poly in the fall, and said the university expressed that he is still welcome there.
MORE: Duke University offers scholarship that excludes straight students 
IMAGE: Africa Studios/Shutterstock
Like The College Fix on Facebook / Follow us on Twitter