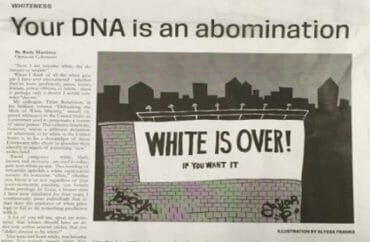 Meanwhile, editor of campus newspaper apologizes for column
A Texas State University student is standing behind his recent controversial op-ed published in the campus newspaper that argues "white death will mean liberation for all."
Student Rudy Martinez has come under fire for his Nov. 28 column in The University Star titled "Your DNA is an abomination." The editor in chief of the campus newspaper has even issued an apology over its publication.
But Martinez, in an interview Wednesday with The College Fix, doubled down on his arguments.
"The article speaks for itself," he told The College Fix via email. "… Though my language, especially when I claim to have only ever met '12 decent white people,' could be deemed as hyperbolic (just barely), it has accomplished its goal: starting a conversation and outing racists."
"… Was the piece racist? Nope; racist attitudes come from a position of power," Martinez added in his email. "The only group who have ever held true power in this nation are those who call themselves 'white.'"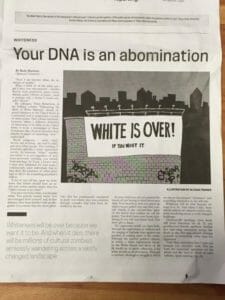 The column came under fire for its incendiary and provocative language against white people.
"Ontologically speaking, white death will mean liberation for all … accept this death as the first step toward defining yourself as something other than the oppressor," Martinez wrote in his column. "Until then, remember this: I hate you because you shouldn't exist. You are both the dominant apparatus on the planet and the void in which all other cultures, upon meeting you, die."
Martinez's column also touched on his personal interactions with white people.
"When I think of all the white people I have ever encountered – whether they've been professors, peers, lovers, friends, police officers, et cetera – there is perhaps only a dozen I would consider 'decent,'" Martinez's op-ed stated.
"In your whiteness, you are granted the luxury of not having to think about race daily. Your heartbeat does not speed up when you get pulled over and find yourself staring at the red-and-blue lights of the fascist foot soldiers we call the police. You don't leave your home wondering if you will ever come back. You don't give a damn," his column also stated.
In his email Wednesday to The College Fix, Martinez said that for those who find his column insulting, infuriating or racist, he has some reading recommendations. Namely, Frantz Fanon's "The Wretched of the Earth," Dr. Huey P. Newton's "Revolutionary Suicide," Valerie Solanas' "SCUM Manifesto" and "The Autobiography of Malcolm X."
"I am not the first, nor the last, individual to discuss such issues," Martinez told The Fix via email. "In fact, the aforementioned thinkers are subtly referenced throughout the entire piece."
Martinez said he is now facing a barrage of anonymous phone calls "from individuals utilizing a tactic known as 'Caller ID spoofing,' meaning their phone numbers are appearing in a personalized fashion."
"They keep using '666,' '88,' and '14.' The latter two are obvious allusions to white supremacy. Some of the comments I've seen on FaceBook have referred to Latinx Americans as 'rape babies' and a 'primitive species.' Surely you can agree that, while admittedly controversial, my article did not stoop down to such a level," Martinez told The Fix.
"My only regret is not being present at production night, I noticed a couple of grammatical errors that weren't in my initial draft," he added.
While Martinez stands behind his column, Denise Cervantes, the editor-in-chief of The University Star, recently issued an apology over the op-ed.
"The original intent of the column was to comment on the idea of race and racial identities. We acknowledge that the column could have been clearer in its message and that it has caused hurt within our campus community. We apologize and hope that we can move forward to a place of productive dialogue on ways to bring our community together," Cervantes wrote.
The piece was also met with sharp criticism from Martinez's fellow students at Texas State.
Student body president Connor Clegg is speaking out against the piece, saying "Blatant racism should have no place in a newspaper students pay for" in a Facebook post. Clegg's post also says he has requested a meeting with the University Star's editorial board and has scheduled a meeting with the Texas State University President Denise Trauth.
Clegg also told The Fix: "Generally speaking, I want to convey to her that racism shouldn't have any place on campus and if she plans to stand behind this article while explicitly condemning other acts of racism on campus, then many students take issue with that. Further, students are forced to pay for this paper through their student fees – no one should be forced to support the free press. That's not how it works so that's an institutional issue that I'd like to see resolved and I hope she can help with that."
Clegg wasn't alone in his concerns. Former student body president Andrew Homann, a senior at Texas State, shared them.
"While I am a staunch defender of the first amendment, this piece promoting racism and bigotry is not something that is productive to a peaceful discussion and interaction among our students," Homann told The Fix.
This isn't the first time that Martinez has written a controversial piece.
In June, Martinez, a self-described Marxist, took to the The University Star to publish a piece about the Russian Revolution and how it continues to inspire 100 years later.
In his piece, covered by The Fix, Martinez says he agrees with Vladimir Lenin and Leon Trotsky that the Bolshevik Revolution would usher in a "new form of government" and "would take the economy, industries, transportation, land and give it back to the people," and that this is "the only way to achieve a lasting peace and avoid oppression."
MORE: Professor teaches students about 'the problem that is whiteness'
Like The College Fix on Facebook / Follow us on Twitter