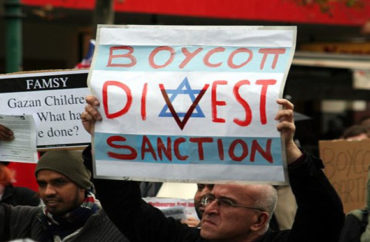 Would be the final University of California student government to pass such a resolution
The student government at the University of California, Santa Barbara, will reportedly vote on an anti-Israel "boycott, divestment and sanction" resolution tonight; if it passes, then allegedly every student government in the University of California system will have passed such a motion.
The school's student senate "put an anti-semitic BDS resolution on the docket for voting [Wednesday] night," the writer Noah Pollak tweeted late Tuesday night.
"BDS activists have passed resolutions at every other UC school. UCSB would be the final domino to fall," Pollak added.
The student government has voted on anti-Israel BDS provisions numerous times over the past few years, all of them failing. One vote held several years ago was extremely close, with 13 representatives voting against it and 12 voting in favor of it. Another vote last year failed when student senators walked out of the meeting in protest over procedural issues.
UC-Santa Barbara's campus has at times been a hotbed of anti-Israel activity. Last year a meeting of the student government was shut down by pro-Palestinian activists.
A study several years ago from Brandeis University found "high levels of hostility" toward Jews on California campuses.
According to Pollak, Santa Barbara is a "top target" because it "has rejected divestment every year & is last man standing in UC system. If BDS wins at UCSB, the campaign targets UC Board of Regents, arguing that every UC school has endorsed BDS. Stakes are high."
Read Pollak's Twitter thread here.
MORE: Another close divestment vote ends in victory for pro-Israel students
IMAGE: Takver / Flickr.com
Like The College Fix on Facebook / Follow us on Twitter