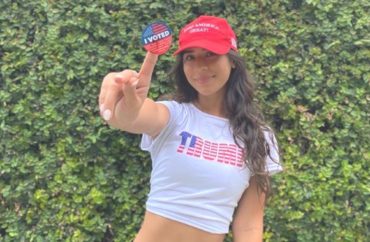 'This was a kangaroo court'
A pro-Trump Latina student at Loyola Marymount University, who serves as its student government senator for diversity and inclusion, has been impeached.
Senator Stephanie Martinez, a self-described conservative, was impeached by her peers on the Associated Students of Loyola Marymount University on Sunday night after a three-hour trial.
As previously reported by The College Fix, the attempt to remove her began late last spring after a progressive student news organization uncovered past tweets in which she voiced opposition to illegal immigration.
"The same people advocating for rights, equality, and better conditions for illegal aliens are the same one censoring freedom of speech (a right), defaming and initiating hostility for those Americans with divergent views! Sad!" Martinez wrote in one tweet from July 2019.
Last week, the senate started the impeachment process after her fellow Diversity and Inclusion student Senator Camille Orozco filed an official motion, claiming Martinez had violated Article 8 in the student body bylaws, which states "conduct that severely damages the integrity or authority of ASLMU or the office held by the individual in question."
Orozco argued in her opening statement that Martinez's impeachment was not about suppressing her freedom of speech but rather "regarding conduct which has severely damaged the integrity, or authority of ASLMU or the office held by Senator Martinez."
She claimed that Martinez's comments had damaged the relationship between Associated Students of Loyola Marymount University and on-campus immigrant student support groups such as First To Go and The Learning Community.
Martinez countered that "despite what was stated, that this is not about free speech or political identity, I argue that this is not the case."
"The impeachment case against me was brought forward as a result of the Loyolan article and subsequent petition in response to my creation of the Students for Trump Instagram page."
According to the student government's constitution, no officer or member will be discriminated against based on their political affiliation. ASLMU Vice President Elsie Mares noted in the hearing that "personal tweets are free speech and are protected and are not grounds for impeachment."
Two ASLMU officers, Chief Programming Officer Brion Dennis and Director of Free Speech & Expression Robyn De Leon, testified in favor of Orozco's case against Martinez.
De Leon argued Martinez's tweets were not protected forms of free speech because it was "very alienating of unrepresented and marginalized communities," citing her use of the term "illegal alien."
De Leon serves in the ASLMU cabinet while moonlighting as a writer for Agency LMU, a progressive LMU student news blog. She was also a co-author of the original article that dug up Martinez's old tweets.
When asked if this might create a conflict of interest given her original involvement in the story, De Leon declined to comment.
Brion Dennis, a fellow Associated Students of Loyola Marymount University peer, disparaged Martinez and other LMU students during and after the hearing online.
"GIRL it's a fucking seat on a random student government senate," Dennis tweeted hours after delivering his testimony. "Why are these old white people so upset!?"

During the trial, he routinely mocked the Latina senator, replying to one tweet that referred to her as the Young Americans for Freedom's "Mockingjay."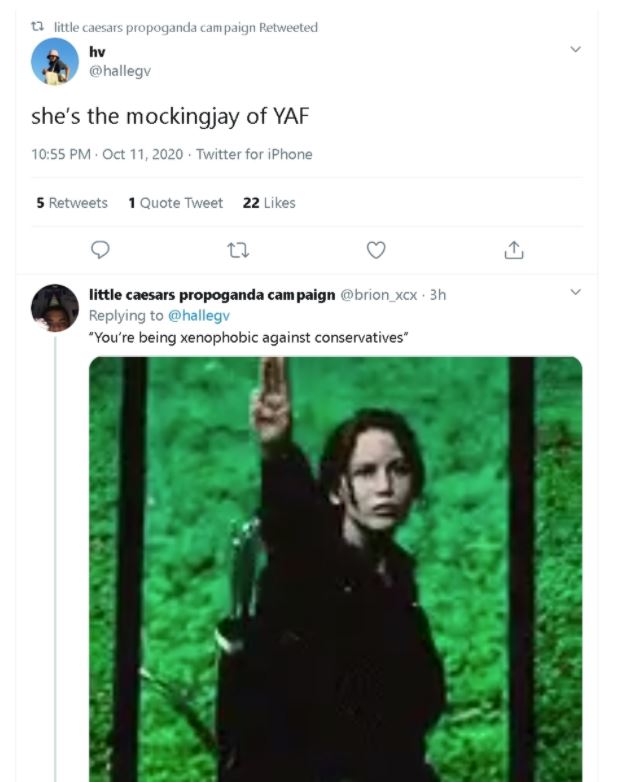 One of Martinez's witnesses was Scott Meyers, vice president of LMU College Republicans, who testified, "I think a lot of what conservatives stand for is freedom of speech, and I believe that this is entirely a free speech issue."
"Hope Scott from the impeachment trial is having a bad day," tweeted Dennis on Monday following Martinez's impeachment.

When asked to comment on his social media posts denigrating a fellow ASLMU peer and students, Dennis downplayed the importance of his testimony, telling The Fix he "was very vocal about ensuring Stephanie's due process because of how emotional this time has been for everyone."
Dennis admitted his tweet regarding Meyers was inappropriate but said he "thought it was funny but did also know it was insensitive. Additionally, I once again have absolutely no legislative power in my position and so I think the rest is inconsequential."
"Crazy how the latino boys at lmu follow the same girl calling them illegal aliens," read another post retweeted by Dennis. "Y'all think with ur DICK."
In her closing argument, Martinez called the trial a "sham," adding it was "a kangaroo court and conservative students on campus are furious." She concluded, "So I want to ask you, how will you represent conservative students on campus?"
Ultimately, the senate voted 18-1, with 2 abstains, in favor of impeachment.
What happens next?
Martinez's next course of action is to appeal the impeachment to ASLMU's judicial board before 5 p.m. on Sunday.
If the board accepts Martinez's appeal then no further action will be taken to remove her from office.
If they reject it, she will face a removal trial by her fellow ASLMU senators immediately following the board's decision.
"I am absolutely disappointed in the outcome but I'm not surprised, it was expected," Martinez told The College Fix in a statement. "This is clearly a poorly disguised way of impeaching me for being conservative."
"My stance on ILLEGAL immigration is apart of my political philosophy as a conservative and I should not be persecuted for it."
She added, "Nonetheless, I feel violated by leftists students and ASLMU. ASLMU should be ashamed of themselves, not only did they show their true biased colors tonight but they made it clear through their snickering, that they do not care for the well-being of conservative students on campus."
Orozco did not respond to a request for comment.
A concerned group of conservative LMU students have since started a Change.org petition to "hold ASLMU accountable for false impeachment." The petition has garnered well over 200 signatures.
MORE: Pro-Trump student senator faces impeachment 
IMAGES: social media screenshots
Like The College Fix on Facebook / Follow us on Twitter