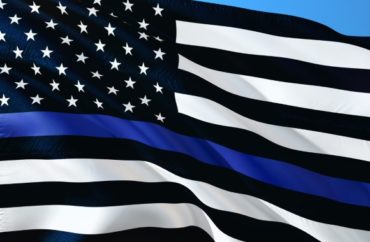 As decision reviewed by administration, student may remain a senator 
Rochester Institute of Technology's student government has impeached student Senator Jacob Custer for debating the status of Thin Blue Line as a counter to Black Lives Matter.
Information about the impeachment was announced in a campus-wide email from RIT President David Munson, which stated the impeachment decision will be reviewed to determine if university free speech policies were violated.
"Earlier today, we learned that the Student Government Senate voted to uphold the Standards Review Board's decision to impeach an elected member of the Student Government Senate. We felt strongly that it was proper and necessary for the Student Government to follow and complete the process outlined in their Student Government Bylaws," reads Munson's Feb. 26 address.
"However, the question of whether the decision may have violated university policy C.11, protecting free speech and expression, has been raised," Munson adds.
"As is always the case, the RIT President's Office reserves the right to review any decision that may violate RIT policy. To ensure that no RIT policies have been violated, I will be assembling a Review Panel, which will include members of the RIT Board of Trustees and others, to review the evidence and decisions from the Standards Review Board and the appeal process."
Munson, while never mentioning his name specifically in his email, stated that Custer may continue in his role as a student government senator while awaiting the review panel's ruling.
When asked for comment by The College Fix via email, Custer declined.
RIT Student Senate President Shine DeHarder did not respond to questions from The College Fix pertaining to the final tally of the student senate vote to impeach Custer or what the action says about the group's commitment to intellectual diversity.
The student newspaper does not appear to have reported on the controversy yet.
Carl Langsenkamp, the university's spokesperson, told The College Fix on Wednesday that Custer's impeachment remains under review.
"As the note to the student body said, we are assembling a panel to review decisions. We have not announced a timeline," he said via email.
The trial to impeach Custer came after the creation of a now-private petition by fellow senators that called for his removal from office for not representing his constituents after he defended Thin Blue Line through the organization's messaging app.
As reported by The College Fix in late January, the effort to impeach Custer stems in part from conversations through the student government's group messaging app where representatives discussed filing a bias report over a campus safety officer who wore a Thin Blue Line face mask.
Custer came to the defense of allowing the campus community to wear the Thin Blue Line masks, according to the screenshots of the conversation.
"Wearing such masks if they want to is not counterintuitive. It is perfectly okay for students and adults to express it since it is free speech. It is not disrespectful either. We are student government, representing all students. It is not our role to determine what idea is good or bad simply because a few members or more disagree with it and punish members of our community over something small. That is just outright censorship," Custer wrote.
MORE: Boise State students bully coffee vendor off campus for supporting Thin Blue Line
The discussion also delved into the question of whether Thin Blue Line is an organization meant to counter Black Lives Matter, according to the screenshots. Thin Blue Line's about page does not mention any information about their relationship to the Black Lives Matter cause.
"[I]t's honestly humorous that a White man is going to sit here and try to tell someone of color, more specifically Black, when something is or isn't racist," one senator said in reply to Custer.
"Breaking news: Jacob Custer is angry and taking a stand against people of color because he isn't allowed to disagree with the idea that Black people don't deserve to be murdered," added another.
But Custer has supporters, too.
"Jacob Custer deserves to remain in office," a Reddit user explained on RIT's student subreddit page. "RIT consistently promotes diversity and pretends to welcome it but when the view points of conservatives come out suddenly they're suppressed and condemned as if they're outright wrong."
MORE: Impeachment sought against student senator who is defending Thin Blue Line masks
Like The College Fix on Facebook / Follow us on Twitter