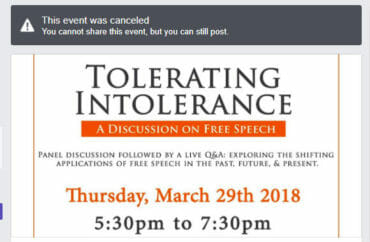 Even the threat of heckling is too much to bear
McMaster University students aren't afraid of what might happen if they attend a "drop-in" discussion on "white privilege and whiteness," led by Prof. Daniel Coleman.
They apparently have to fear for their safety if they attend a discussion about campus free speech, though.
A student group at the Canadian university canceled a panel discussion scheduled for Thursday after "several student groups and faculty reached out to both our executives and to one of the panelists expressing serious concerns about the safety of the event and about the history of our panelists," it told The College Fix in a series of Facebook messages Wednesday.
Overcome the Gap, an anti-poverty group, said there were no specific threats against the "Tolerating Intolerance" event, which was to feature the controversial Acadia University professor Rick Mehta among other academics.
Its thought process reveals something depressing about campus culture in 2018, particularly in Canada: Hecklers don't have to go through with heckling. They just have to threaten to heckle to accomplish their censorious agenda, and/or convince the weakest link to drop out.
It's likely to work.
BREAKING: A panel discussion tomorrow at McMaster University, entitled Tolerating Intolerance: A Discussion on Free Speech, has been cancelled because of "concerns about the safety of the event." But sure, there's no need to discuss free speech.

— Andrew Lawton (@AndrewLawton) March 28, 2018
'It is not accurate that we received "threats" regarding this event'
Unlike the top-down cancellation of a similar event last summer at Canada's Ryerson University, owing to vague "safety" concerns, the McMaster administration wasn't involved in this decision.
Asked to elaborate on a tweet by a Canadian pundit about the event's cancellation, Director of Communications Gord Arbeau told The Fix the administration "had no role in the postponement nor in the organization of the event itself."
The administration only knew about the cancellation because Overcome the Gap alerted officials that it no longer needed the room, citing a speaker who had dropped off the panel, according to Arbeau.
Beyond Mehta, a free-speech crusader in Canada who is under investigation for his classroom activities, the event was to feature McMaster historian Jaeyoon Song, an expert in Chinese intellectual history, and St. Mary's University philosopher Mark Mercer, the president of the Society for Academic Freedom and Scholarship. Mercer's group is credited as the sponsor for the event.
The event's Facebook page featured an apology for the late cancellation, saying "one of our panelists" dropped out and "students and faculty" raised concerns about "safety." While the notice doesn't say who dropped out, the group's cancellation message to Mehta confirms it was McMaster professor Song.
MORE: University cancels 'The Stifling of Free Speech on University Campuses'
Here's a screenshot of the email message I received regarding the cancellation of the panel discussion on free speech that was supposed to take place at McMaster University tomorrow. pic.twitter.com/9jL5dsiahi

— Rick Mehta (@RickRMehta) March 29, 2018
The Fix asked Overcome the Gap to clarify what specific threats the event had drawn. The student group responded on Facebook:
It is not accurate that we received "threats" regarding this event. … After speaking with the panelist who chose to withdraw, we decided internally not to pursue a two person panel as this would not accurately reflect the initial purpose of the event and carried the continued risk of disruption (which would not have allowed a balanced discussion to take place).
The group continued that the dropout panelist said "several colleagues" were concerned about his safety if he participated:
In addition, student groups (including those who disrupted the previous event with [University of Toronto psychologist] Jordan Peterson) reached out to us and based on these exchanges it was quite clear that there would be disruption.
Even if Overcome the Gap wanted to continue, the remaining two-person panel – with two self-acknowledged free-speech defenders – "would not accurately reflect the kind of balanced discussion we had hoped to have and thus chose not to proceed at this time," the group said.
Asked if the group was encouraging future opponents to threaten its invited speakers and events by canceling so readily, Overcome the Gap said its executives took responsibility for the decision, which was "not in direct response to any statements made by other groups."
Let's recap how this event got shut down: 1. Colleagues of one panelist gave him unspecified "safety" concerns, and he panicked. 2. Known hecklers at McMaster said they would raise a ruckus, as they did against Peterson, best known for his refusal to use gender-neutral pronouns. 3. Executives decided that a panel without "balance" would defeat the purpose.
You have your template for intimidating people into self-censoring views you dislike, censors of Canada.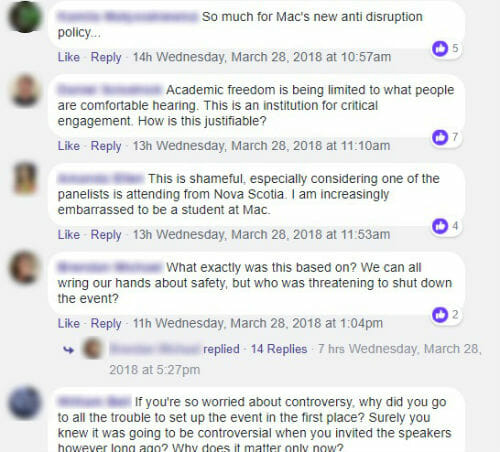 MORE: Mehta under investigation for promoting free speech in class
IMAGE: Overcome the Gap/Facebook
Like The College Fix on Facebook / Follow us on Twitter