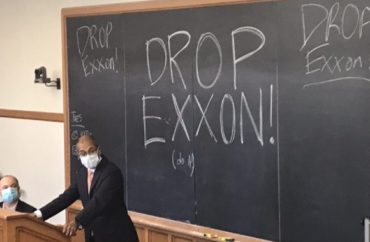 Law student activists want peers dissuaded from working for oil and gas companies
A group of law students want to see "fossil fuel lawyers" prevented from "serving in law school governance" or teaching classes.
Law Students for Climate Accountability laid out its demands in a report that ranked law schools based on how many "fossil fuel lawyers" they produced.
The group also urged schools to curtail their "academic opportunities focused on fossil fuels" to dissuade students from that career path. It is funded by the Earth Island Institute.
The College Fix reached out to the law student group and asked what steps universities should take to separate professors from the oil and gas industry, if it wanted universities to fire current professors who worked for these companies, and if individuals who formerly worked at oil corporations should also lose their jobs.
Neither the group nor its current director Haley Czarnek responded to multiple emailed requests for comment in the past several weeks. Czarnek graduated from the University of Alabama's law school in 2022.
The group regularly protests events, including a 2021 Federalist Society event at Yale Law School featuring Paul, Weiss attorney Kannon Shanmugam (pictured).
A law professor at George Washington University and a legal commentator criticized the students for their demands.
"This is only the latest example of speech intolerance on our campuses," Professor Jonathan Turley told The College Fix via email. "Climate change is one of the foremost debates of this generation but many would like that debate to be little more than a diatribe. There are people of good faith on both sides of these issues."
Noting the relevance of this debate to law students, Turley said "the underlying legal issues are complex and often raise a myriad of related constitutional and contractual issues. A vibrant institution of higher education welcomes such diversity of opinions."
Turley also said "there are actually few conservatives left to cull from faculties. The number of conservatives or libertarians on faculties has been falling for years."
The American Association of University Professors did not respond to requests for comment. It recently shared a resource with The Fix for a different article that explained why it opposes bans on industry-funded research.
Another free speech group, PEN America, said it does not currently "have a position on this issue. But we are following developments." Suzanne Trimel, the spokesperson, made similar comments to The Fix when asked about efforts to ban funding of academic research from oil and gas companies. In contrast, the group recently defended a Wayne State University professor who wrote on Facebook it would be better to kill right-wing "transphobes" than to just "shout them down."
Law Students for Climate Accountability has encouraged others who agree with its views that lawyers are not "neutral actors" to write similar reports on "issues such as labor justice, reproductive justice, immigration justice and abolition."
MORE: Harvard activists want law professor to resign from oil company board
Activists founded Law Students for Climate Accountability in 2020 as a follow-up to the #DropExxon campaign, where students from several law schools picketed recruiting events for the law firm Paul, Weiss and tried to pressure the firm to drop its client Exxon.
Harvard law students yelled out of a megaphone during a formal restaurant dinner in 2021 sponsored by Paul, Weiss, brought a large #DropExxon banner and shouted at the visiting attorneys. One student accused the firm of "climate murder." Yale students waged a similar protest.
Law Students for Climate Accountability's two founders, Scott Stern and Camila Bustos, urged "weaponized shame" against people who they view as culpable for climate change.
Writing for an anti-capitalist blog at Yale in 2020, they argued "the death of 'civility' surrounding the climate crisis is clarifying and long overdue." Instead, they called for "more frankness" and "weaponized shame—aimed, for once, not at the powerless, but at the powerful."
Stern now works for environmental advocacy group Earthjustice while Bustos is set to start as a law professor at Pace University, according to her Linkedin.
Both of the climate accountability group's founders were students at Yale Law School, which has drawn criticism for allowing students to shut down right-leaning speakers, with at least two federal judges boycotting Yale Law by not recruiting clerks from the school.
One of them, Judge James Ho, noted in a speech that "Yale not only tolerates the cancellation of views—it actively practices it."
MORE: Check out the Campus Cancel Culture Database
IMAGE: Law Students for Climate Accountability/Twitter
Like The College Fix on Facebook / Follow us on Twitter