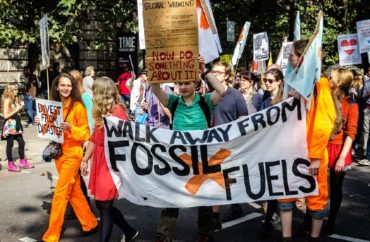 ANALYSIS: Activists want to shut down industry-funded research but academic freedom supporters are mostly quiet
Many prominent supporters of academic freedom were largely silent about efforts to prohibit oil and gas companies from funding research on campus when contacted by The College Fix.
Of the eight groups or professors contacted by The Fix, only two criticized the efforts at places such as Brown University as well as a national effort to convince universities to ban research that involved funding from oil and gas companies.
Kelly Benjamin, the media relations director for the American Association of University Professors, directed The Fix to a document titled the "Recommended Principles to Guide Academy-Industry Relationships."
"From the emergence of the modern research university, interactions between private industry and university professors have been critically important," the 2014 guide stated.
It also stated that industry "brings new technology to university campuses, and can help promote public support for university research." The guide called for conflict of interest policies and disclosure in place of bans. It noted the group had opposed efforts to restrict tobacco industry funding of research as well.
Another group, the Foundation for Individual Rights and Expression, opposed the efforts to restrict access to corporate funding, a departure from its previous position.
"Faculty should have full freedom in their teaching and research," FIRE Director of Campus Rights Advocacy Alex Morey told The Fix via email on April 24. "Bans on research funding can inhibit research itself and make it less likely academics will engage with those topics. Whether professors want to study DEI or oil and gas, university administrators must not interfere with those choices."
"Broadly, faculty must have sole power over the direction of their research, including seeking funding," Morey said.
FIRE told The Fix earlier this year that it could not comment on a proposal at Stanford University to bar oil and gas research funding. "We can't comment on this particular question as it's slightly outside our mission of defending students and faculty," media relations representative Katie Kortepeter told The Fix at the time.
Other academic freedom supporters like PEN America and Cornel West, also did not weigh in when asked by The Fix.
"We are continuing to evaluate this issue but we are unable to comment at this time," Suzanne Trimel with PEN America told The Fix. The group recently defended a Wayne State University professor who wrote on Facebook that it would be better to kill right-wing "transphobes" than to just "shout them down."
The Academic Freedom Alliance declined to comment. "I forwarded your message and topic to the AFA Academic Committee," Howard Muncy told The Fix on April 30. "After some discussion, they have stated that they do not have a position to share on this topic at this time."
Two founders of AFA, contacted individually, also did not provide comment on the question.
Professor Robert George and Professor Cornel West both ignored requests for comment sent in the past weeks. West himself has endorsed a call to ban oil and gas funding to universities.
MORE: Robert George calls on conservatives to be more courageous
West and George released a statement in 2017 that criticized "campus illiberalism" and both helped found the Academic Freedom Alliance. Despite this, West signed onto the national letter in 2022 that demanded universities "institute a ban on accepting fossil fuel industry funding for climate change, environmental, and energy policy research."
The American Council of Trustees and Alumni told The Fix in mid-April that its team was recently on a retreat and it was "unable to find someone who could carve out any time to do the appropriate research and to speak to you." It did not provide any further comment in response to a follow-up request this week.
The new Council on Academic Freedom at Harvard promised to protect "unconventional thinkers, oddballs, and nonconformists" but said it does not "have a stance" on the issue of targeted efforts to defund oil-funded research.
"The Council doesn't at present have a stance on prohibitions on research funded by oil and gas companies," Executive Director Flynn Cratty said. "We are committed to free inquiry which requires that researchers should have broad discretion to conduct research on topics they think are important."
MORE: Yale sacred music center launches climate change art initiative
IMAGE: Garry Knight/Flickr
Like The College Fix on Facebook / Follow us on Twitter