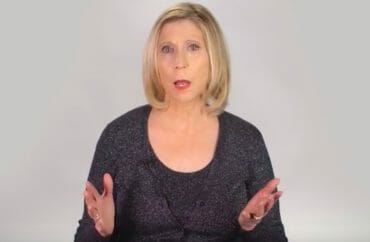 Activists provide zero proof to back up serious charge
Self-proclaimed "Factual Feminist" Christina Hoff Sommers found herself under attack on March 5 when she spoke at Lewis and Clark Law School, with student activists interrupting her talk, attempting to shut it down, and accusing her of being a "fascist."
Now, nine student groups that called for her to be disinvited because of her "fascist" beliefs are eschewing media attention and refusing to define their definitions of fascism or how Sommers fits that bill.
Sommers was invited to speak at Lewis and Clark Law School as a guest of the Federalist Society, but in the days leading up to the event a coalition of nine on-campus group authored a letter that referred to Hoff Sommers a "known fascist."
"We call on the Federalist Society to rescind their invitation to have Christina Sommers speak on campus," the letter declares. "Free speech is certainly and important tenant to a free, healthy society, but that freedom stops when it has a negative and violent impact on other individuals."
The groups that signed the letter titled "Refuse Fascism in All Its Forms" included the Black Law Association, National Lawyers Guild at Lewis and Clark Law School, Minority Law Association, Women's Law Caucus, Immigration Student Group, Jewish Law Society, OutLaw, Lewis & Clark Democratic Socialists of America, and the Latino Law Society.
None of those groups responded to repeated inquiries from The College Fix seeking clarification on how the groups defined fascism or how Sommers met such a definition.
After reaching out to the Black Law Association, The Fix received a reply from Lawrence Pittman, the president of the law school's Student Bar Association.
"I would truly appreciate if you would leave the Black Law Student Association out of any media surrounding this as we are a very small organization on the Lewis & Clark Law School Campus," Pittman wrote.
A follow-up email to Pittman was not returned.
Reached for comment via email, the Women's Law Caucus redirected The College Fix to campus spokesman Roy Kaufman. Kaufman never responded to inquiries about the group's views on fascism and Sommers.
In the aftermath of the protest, Lewis & Clark Law School claimed that "a few protesters" disrupted Hoff Sommers's speech, after which she was able to continue her talk unimpeded.
Video evidence, however, shows that activists repeatedly interrupted Hoff Sommers's talk with chants and singing.
In a statement released by the school's Federalist Society, the group condemned the activists' "attempts to distort the concepts of language and power into a crude club with which to crush all possible discussion on difficult topics."
"It is crucial to our school, our profession, our culture, and our nation to engage in difficult dialogue," the statement continued.
Addressing the accusations that Hoff-Sommers is a "fascist," the Federalist Society wrote: "It is difficult to pin down a precise definition of fascism, and such efforts have been a subject of debate since the emergence of the ideology decades ago."
"However, one thing is patently clear," the group stated: "Ms. Sommers is not a fascist."
MORE: Protesters shout down dissident feminist after student organizers refuse to disinvite her
MORE: Feminist says law school has not apologized for letting protesters take over her speech
IMAGE: YouTube
Like The College Fix on Facebook / Follow us on Twitter