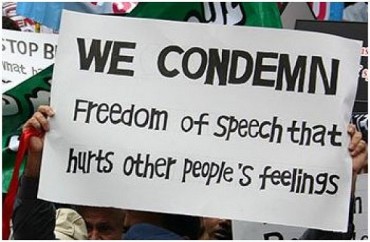 A coalition of liberal student organizations has condemned California State-Long Beach President Jane Close Conoley and her administration for allowing an event hosted by the school's Turning Point USA group.
On October 23, TPUSA hosted conservative pundits Charlie Kirk and Candace Owens who were greeted by some 200 demonstrators protesting outside the venue. The activists chanted phrases such as "Go home, fascists" and "Say it loud, say it clear, immigrants are welcome here."
The day before, President Conoley had sent a reminder email to the campus community about what the First Amendment is all about, noting "free speech rights must be respected and protected" … meaning anyone attempting to thwart Kirk and Owens would be dealt with.
This did not sit well with the progressive CSULB groups. According to the Daily 49er, two days after the event the coalition comprised of organizations such as the Black Student Union, La Raza Student Association, Queers and Allies, and the Young Democratic Socialists of America, published a statement condemning Conoley and the administration for failing to protect and support "marginalized groups on campus."
"The institution has proven its negligence and violence once more to our community by allowing Turning Point USA's event to take place on campus on October 23rd," the statement reads. It also claims the very name of the Turning Point event, "Campus Clash," "implies violence."
Like many other far-left campus groups, the coalition demonstrated ignorance of the First Amendment by claiming Conoley "falsely protected Hate Speech [sic] under the guise of freedom of speech."
The student coalitions' statement said that two "hecklers" harassed students and security took no measures to protect the protestors from them. …

The claim is followed by a list of instances in which the university allegedly allowed the promotion of bigoted ideals and racially driven harassment on campus.

These instances include when a student held a knife to a black female student in a sociology class in 2016, as well as President Conoley's decision not to honor the university's resolution to divest from companies who support the oppression of Palestinians.

"The university upholds white supremacy so much that they are willing to put the lives of students challenging it in danger," the statement reads.
President Conoley responded that the coalition statement "is an example of the type of free speech [the school] encourages."
"It is speech that I find to not match the values I espoused in preparing for and implementing the campus' response to the Turning Point event, but our students are allowed to express their opinions," she said. "They have this right even when I think they are mistaken and they cast some doubt on my (and by extension other university leadership's) values, intents and beliefs."
MORE: Mask-wearing demonstrators aggressively protest TPUSA event
MORE: Profs, students voice outrage over TPUSA club's approval
IMAGE: Sam Graham/Flickr.com
Like The College Fix on Facebook / Follow us on Twitter