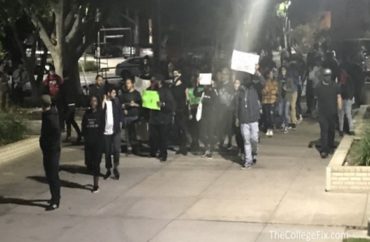 Roughly 200 protesters, many of whom donned black clothing and bandanas as masks over their faces, converged at Cal State Long Beach on Tuesday night to protest a conservative event hosted by the school's Turning Point USA student group.
The talk featured conservative Republicans Charlie Kirk and Candace Owens, both of whom support President Donald Trump and capitalism and criticize socialism and victimhood mentalities. While their speeches did take place, the protest that unfolded outside the building leading up to the talk was intense.
The demonstrators marched up to the Beach Auditorium venue around 6:15 p.m. as audience members waited in line to be let in. The waiting patrons were protected by a row of large freeway-style concrete dividers topped with a chain link fence. Protesters outside the barrier jeered at event-goers. One student told The College Fix he heard a few demonstrators calling some of the women in line "sluts."
The Long Beach Press Telegram reports that although there were no injuries or arrests, nor property damage reported, the confrontations were heated.
"Protesters chanted phrases including 'Go home, fascists' and 'Say it loud, say it clear, immigrants are welcome here' next to a barricade that surrounded the University Student Union. And although the University Police presence was heavy, and officers set up the barricades, there were moments when protesters and anti-protesters got confrontational, including some pushing and yelling," the Telegram reports.
.@daily49er Protesters chanting at Campus Clash event #49ernow pic.twitter.com/N5uYLyfa9P

— Jaron Cofield (@JaronCofield) October 24, 2018
At one point the protesters also yelled "Black Lives Matter," although Owens herself is black. She has said the African American community does not need to rely on government aid to achieve greatness, arguing hard work and free market opportunities in the U.S. affords all Americans a chance at a great life.
MORE: 'I'm off the plantation, bro!' Video of black Stanford student goes viral.
Kirk and Owens are traveling the country giving speeches at universities as part of a "Campus Clash" fall 2018 tour. They appeared at Rutgers University in New Jersey on Monday night without incident.
But at Cal State Long Beach, administrators had expected the protest. The barricade had been set up the morning before the event. And in an email to the campus community with the subject line "A Reminder about Free Speech," campus President Jane Close Conoley told students in the hours leading up to the talk that "free speech rights must be respected and protected." [Emphasis original.]
"Peaceful assembly is guaranteed by the Constitution but if violence erupts, individuals' rights to assemble are negated. Therefore, University Police will disband any violent assembly on campus posing a danger to people or property," Conoley wrote.
She added at the end of her email that those in need of support services should call the university's Counseling and Psychological Services department.
In an profanity-laced chalking during the protest, one demonstrator claimed that because the university did not cancel the event it shows that its leaders do not care about students of color. The chalking claimed there had been death threats against students of color, but no corroborating evidence of that claim has been reported by campus officials or local news agencies.
.@daily49er a message written by one of the protesters. #49ernow pic.twitter.com/rMZMfte6f1

— Jaron Cofield (@JaronCofield) October 24, 2018
MORE: Candace Owens rebukes victim mentality, Democrat policies in talk to college students
Like The College Fix on Facebook / Follow us on Twitter