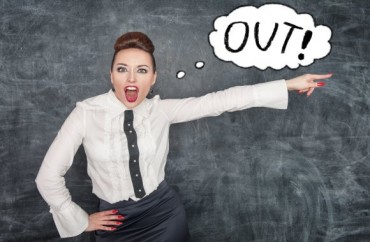 A student at a Minnesota high school who opted to support gun rights during Wednesday's National School Walkout was told by his principal he had to ditch his pro-Second Amendment sign … or leave campus.
New Prague High School senior Andy Dalsin held a poster during the protest which said "Gun Don't Kill People. People Kill People." Principal Lonnie Seifert was having none of it, however. Seifert even threatened Dalsin with being hauled away by the police if he didn't comply.
Seifert claims he was just going by district policy, according to KSTP-5.
In a statement, the district said "such items [as Dalsin's] must be submitted to and reviewed by school administration at least 24 hours in advance."
Dalsin said other students had signs … and told him they had no idea about the district policy either.
During the National School Walkout, a student at New Prague High School in Minnesota held a sign that said: "guns don't kill people, people kill people."

A student at the school said, "he was escorted off the property by our principal & threatened to be put into a police car." pic.twitter.com/1V6eaL0eRi

— Ryan Saavedra 🇺🇸 (@RealSaavedra) March 15, 2018
"Administration didn't fairly use their policy across the board," [Dalsin] said. "I felt like I was singled out unjustly and my constitutional rights and my First Amendment was trampled on."

After the senior was told to give up his sign or leave the campus, he moved to a public sidewalk to continue sharing his message.

"It sounded like a lot of people were giving him a pat on the back, especially for the courage he had," fellow senior Riley Schaeffer said.

Dalsin is thankful for the support. But he said the focus should be on the victims of school shootings, while also exploring other ways to protect students.

"Across the country people are using students to push the rhetoric of gun control," Dalsin said. "And I wanted to come out here, and at the same time (while) supporting the victims, come forward with an attitude that shows a different viewpoint."

The district went on to say they respect a student's right to free speech, but added "Those rights, however, are to be balanced against the district's responsibility to maintain a school environment focused on education."
A student involved in a school-approved protest holding a sign with a different point of view isn't … "focused on education"?
Dalsin was not disciplined by the school. District Superintendent Tim Dittberner said he is investigating the situation.
MORE: Students walkout with American flag upside down, whine about criticism
MORE: Teacher put on leave for asking if school would allow pro-life walkout
IMAGE: Shutterstock.com
Like The College Fix on Facebook / Follow us on Twitter