Efforts underway to change policies that reinforce heterosexuality
The University of Notre Dame to this day exclusively maintains single-sex dorms, with all-male and all-female residence halls at the 177-year-old Catholic institution.
Now its student body president has asserted the university's dorms wrongfully normalize heterosexuality over homosexuality.
Student Body President Elizabeth Boyle told The College Fix in an interview her team is taking steps to address "heteronormativity" in the Catholic university's dorms.
Heteronormative means "denoting or relating to a world view that promotes heterosexuality as the normal or preferred sexual orientation," according to Oxford Dictionary.
Members of Boyle's student government plan to work to end a longstanding campus policy that forbids students from spending the night in the dorms of the opposite sex, according to an internal email obtained by The College Fix. According to earlier writings by the architect of the plan in student government, this would be for the sake of minimizing heteronormativity.
Boyle said she "personally" supports allowing transgender students to live in the dorm that corresponds to their gender identity, and explained heteronormativity affects transgender students living in Notre Dame dorms.
With people of the opposite sex spending the night and transgender students of the opposite biological sex joining a dorm, Notre Dame dorms would move away from their single-sex origins.
Boyle told The College Fix heteronormativity is particularly pronounced at Notre Dame in the setting of an all-male dorm.
"For example, guys in a male dorm could tease a guy about asking a girl out without realizing that he's gay," she said.
Boyle said her team has taken steps to address heteronormativity through the distribution of "ally" and "safe space" pins, stickers, and signs to rectors and resident assistants. These materials can be found across campus in seemingly every dorm. Boyle stressed these stickers promote the importance of "inclusivity" and "making everyone feel welcome."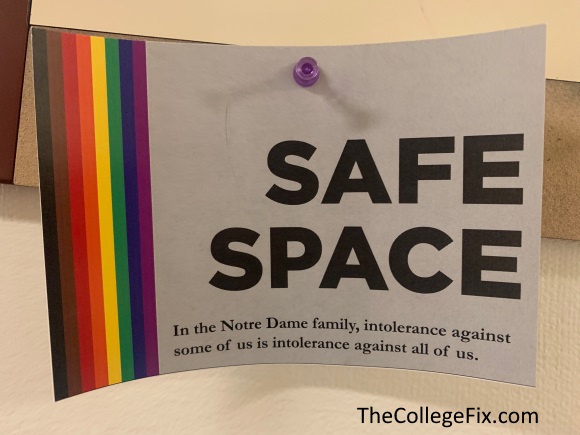 These efforts underscore Boyle's statement last month that LGBTQ students may find Notre Dame dorms to be "too heteronormative and not safe spaces," the Observer campus newspaper reported.
LGBTQ club co-vice president Taz Bashir called for action against heteronormativity when he said the Catholic university's dorm programming "has to be less heteronormative" in an official university video released last month.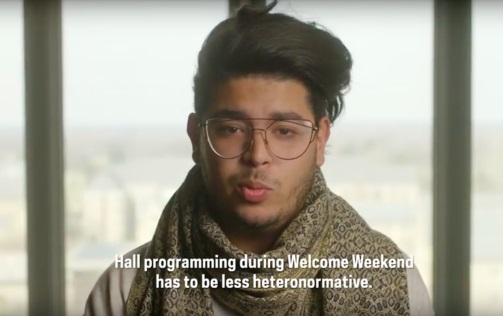 These comments appear to display an emerging campaign of social justice activism at the Catholic university in which the focus has shifted from simply calling on the campus to support the LGBTQ community to urging for policies that favor their lifestyle over Catholic beliefs.
Catholic teaching says homosexual relationships are immoral and same-sex attractions are "intrinsically disordered." Student activism against heteronormativity challenges that understanding, and pushes the Notre Dame administration to grant more leeway on LGBTQ issues — upsetting the already delicate balance the Catholic university has attained regarding these issues.
While Boyle said the stickers address heteronormativity, they do seem to be a continuation of the policy of supporting LGBTQ students as a minority group. However, the student government intends to take other actions that will seriously challenge heteronormativity.
The student government has plans to work to eliminate Parietals, according to the internal email. Parietals is the rule that prohibits students from occupying the dorms of the opposite sex during nighttime. The internal email lists "PARIETALS" "reform" (REMOVAL) as an item on the agenda for the year. The email also lists "the beginning of the death of Parietals" as a policy goal.
The Parietals policy "seems to enforce heteronormativity and ignore that LGBTQ+ students exist here," said Boyle's director of gender relations in student government, Anne Jarrett, in the Huffington Post in 2017.
Parietals enforces heteronormativity, according to Jarrett, because students believe it exists to prevent sexual activity, but the policy only seeks to prevent sexual activity between a man and a woman, therefore ignoring homosexual activity.
Theoretically, if both men and women were permitted to occupy the same dorm during nighttime, the Notre Dame administration would normalize heterosexuality over homosexuality to a lesser extent. However, since the student government does not have power over campus administration, it cannot end the current policy without their approval.
Boyle also challenges heteronormativity through her keystone campaign promise: adding "sexual orientation" and "gender identity" to the Catholic university's non-discrimination clause. This policy would require the university to treat same-sex relationships the same as heterosexual relationships and to place transgender students into the dorm that corresponds to their gender identity.
One student placed the blame for heteronormativity on the Notre Dame administration. Senior Savanna Morgan told the Observer last spring the Notre Dame administration has aligned itself with a "heteronormative agenda."
The Notre Dame administration currently supports LGBTQ people by protecting them as a minority group. One allyship poster distributed by the university offers the "preferential option for the poor and vulnerable" as a principle to follow with LGBTQ people. But campus administration has not placed homosexuality on a commensurate level with heterosexuality. This is the position student activists will need to dismantle to bring an end to so-called heteronormativity at Notre Dame.
Not every student at Notre Dame sees a problem with heteronormativity.
Sophomore W.B. Gentry told The College Fix: "I would say that heterosexuality is, in fact, the norm. For every student at Notre Dame who is sexually attracted to the same sex, there are something like 20 students who aren't."
MORE: Students accuse Notre Dame of 'fearing the queers' 
MORE: Notre Dame student leaders bring back previously banned pro-LGBTQ film fest
MORE: Pro-gay lobbying ramped up at University of Notre Dame
Like The College Fix on Facebook / Follow us on Twitter