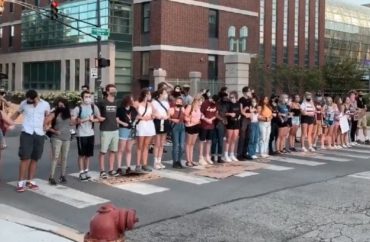 'Our sole job is to side with complete and full accuracy'
Last fall Northwestern University's student newspaper published photos of student protesters at a public protest and asked them for comment. Activists cried foul, claiming this basic journalism was a threat to their safety, and the editors caved.
Middlebury College's student newspaper didn't wait for activists to claim that basic journalism is racist. Its editors simply decreed earlier this summer that it would no longer publish photos from "Black Lives Matter and related protests," in order to shield the identities of people protesting in public.
Activists tried the same tack with Loyola University Chicago's student paper. In one of the few good pieces of news from 2020, The Loyola Phoenix stood its ground.
Editor-in-Chief Mary Chappell explained in a column last week why it covered the recent arrests of several students for blocking traffic after more than a week of Black Lives Matter protests, which were intended to convince the Catholic university to cut ties with the Chicago Police Department.
Not only did it publish the names and charges of students taken into custody, but the Phoenix also tweeted videos (screenshot, above) of the arrests. Chappell said the paper received "dozens" of demands to remove the videos, with some claiming it caused "unnecessary trauma" to the arrested students. When it refused, activists called for a boycott on interviews with the Phoenix.
MORE: Daily Northwestern apologizes for taking photos in public
Police are threatening to arrest students as they continue to protest. They have issued a second warning. pic.twitter.com/rz74T1U8XB

— Loyola Phoenix (@PhoenixLUC) August 29, 2020
Police have dispersed after taking several students in police vehicles. Students are limited to the sidewalks, but are continuing to protest at the intersection. pic.twitter.com/lkQhuLBQ3h

— Loyola Phoenix (@PhoenixLUC) August 30, 2020
"People spread photos and memes with the words 'F— The Loyola Phoenix,'" she wrote. It was "berated online" again when the story went up, "for posting the detailed and accurate story of what occurred and for keeping the videos up." Part of that reporting? Interviews with students who said police roughed them up:
As Loyola's student publication, we've had reporters covering nearly every moment of every demonstration over the past week and a half. The Phoenix has been there all nine days, all phases of this movement, to accurately report what's been happening. As journalists, we have a duty to cover protests, movements and really anything through the good, the bad and the ugly.
In a time when student activists expect the campus newspaper to uncritically carry their talking points and do their bidding, Chappell refreshingly tells them the Phoenix – which is "editorially independent" from Loyola – will think for itself:
The Phoenix … doesn't directly support anyone or anything except the pursuit of the full truth. We aren't on the students' side. We aren't on the university's side. Our sole job is to side with complete and full accuracy. Our job isn't to be a promoter, it's to cover things as they are. …

Our reporters posted videos of the arrests on social media because they occurred in a public space — North Sheridan Road. We don't need consent for videos or photos taken of people in public. We didn't take them down because that's not what media outlets typically do. If something is blatantly wrong or inaccurate, we publish a correction. But nothing was inaccurate here.
Chappell noted the hypocrisy of a BLM campus group, Our Streets LUC, who claimed the newspaper was "continually harassing" the arrested students by reporting on their arrests. That group itself posted the names of the arrested students on its public Instagram page, a day before the Phoenix story was published. She reiterated that all of this is public record from Chicago police.
MORE: Middlebury paper gives up journalism to become BLM organ
As for that "harassment" claim: "For any story, we give all parties involved a fair chance to give their perspective. It was important to us to make sure everyone arrested had a fair chance to speak up about what happened, so naturally we sent follow-up interview requests to all."
Chappell told readers that the newspaper would "cover what needs to be covered" regardless of any future "social media shitstorm[s]" aimed at the Phoenix:
And we won't stop doing this now for this movement or any other coverage. We are ethically bound to make sure people are notified and have a chance to speak toward their direct involvement in any story.
Chicago Tribune columnist Eric Zorn contrasted Chappell's refusal to renounce journalism with the Daily Northwestern's "disgraceful capitulation to the woke mob," which was especially outrageous because several of the latter's staff study at Northwestern's Medill School of Journalism.
Chappell told Zorn that "I had the Northwestern situation on my mind when all the pressure started coming down." She mocked those who claimed the Phoenix was "promoting trauma porn" and "supporting a fascist police state" by doing journalism, rather than serving as PR flaks for the activists.
In contrast to the unsigned Phoenix editorial that criticized its Northwestern peers for capitulating to the mob, Chappell said she signed her own name to the column to make clear that "she made and owned the decision not to back down," according to Zorn.
"It's not clear to me where activists and demonstrators ever got the idea that public protesting is somehow a private act that can be conducted anonymously," Zorn wrote. "It's dismaying that they insist their threshold for personal trauma outweighs the tenets of responsible journalism."
I feel the same, but Zorn and I got our journalism education before woke dogma took over newsrooms. It's good to know that there are a few outliers like Chappell who still hew to, you know, actual journalism principles.
Our Streets LUC calls off today's protest due to low turnout, an organizer told the group gathered in anticipation of today's demonstration. pic.twitter.com/0CXG7bRE9r

— Loyola Phoenix (@PhoenixLUC) September 5, 2020
MORE: Student paper loses funding – again – after running op-ed critical of BLM
IMAGE: Loyola Phoenix/Twitter
Like The College Fix on Facebook / Follow us on Twitter