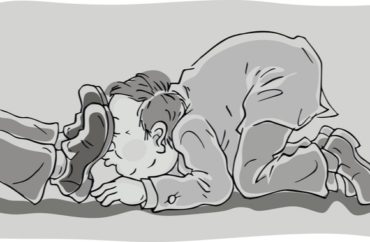 Asking someone for comment invades their privacy?
The spirit of Antifa is infecting student protesters. Not necessarily the gleeful violence against anyone to the right of Bernie Sanders, but the visceral aversion to being photographed.
Photography, you may be aware, is kind of important to journalism. But not important enough for The Daily Northwestern, which puts the feelings of public protesters ahead of its fidelity to journalism.
In an editorial drawing bafflement among professional journalists, the student newspaper at Northwestern University apologized for harming – yes, harming – the students who turned out to protest an appearance by former Attorney General Jeff Sessions.
What constitutes that harm? Not just taking their photos, but asking them for comment. (Keep in mind Northwestern has an elite yet unaccredited journalism school, Medill.)
Video from the evening revealed protesters reacting as if they were getting hit by tear gas and rubber bullets in Hong Kong, screaming that Sessions had "violated" them and they were "fighting for their lives right now." The Daily reported that some were "climbing through open windows and pushing through doors."
Protesters knew the cameras were documenting their meltdown. One said they were "not being cute for the Medill photographers," and an administrator reportedly tried to block someone recording the event.
And they apparently let the Daily have it for doing its job.
There's a lot to comment on in this Daily Northwestern editorial, but apologizing for contacting people to ask if they're willing to be interviewed? Regretting that you photographed protesters protesting in public? https://t.co/2GmEF4ZyZq

— Gregory Pratt (@royalpratt) November 11, 2019
MORE: Student paper columnist fired for using 'illegal alien' in column
The editorial board starts its cringeworthy column by saying the Daily "was not the paper that Northwestern students deserve."
By sending a photographer to cover the protest, the newspaper "contributed to the harm students experienced" at the … "traumatic event":
Some protesters found photos posted to reporters' Twitter accounts retraumatizing and invasive. Those photos have since been taken down. On one hand, as the paper of record for Northwestern, we want to ensure students, administrators and alumni understand the gravity of the events that took place Tuesday night. However, we decided to prioritize the trust and safety of students who were photographed. We feel that covering traumatic events requires a different response than many other stories. While our goal is to document history and spread information, nothing is more important than ensuring that our fellow students feel safe — and in situations like this, that they are benefitting from our coverage rather than being actively harmed by it. We failed to do that last week, and we could not be more sorry.
If making students "feel safe" is really the newspaper's mission, it should just shut down entirely. News coverage always makes someone feel unsafe. (See the repeated trashing of campus newspapers.)
It didn't get any better from there. The Daily apologized for using the university directory to contact students for interviews – a core practice of any competent college newsroom going back decades – but one that apparently unnerved some students:
We recognize being contacted like this is an invasion of privacy, and we've spoken with those reporters — along with our entire staff — about the correct way to reach out to students for stories. [No "correct" way is given.]
MORE: Jeff Sessions protesters are 'fighting for our lives'
This is the best satire of an obscenely woke college newspaper I've ever seen. Kudos Daily Northwestern! You all deserve jobs at the Onion. https://t.co/CbufS1q7zt pic.twitter.com/RzeTaprFfH

— Katie Herzog (@kittypurrzog) November 12, 2019
It's even giving a mea culpa for identifying sources who agreed to be named. When you talk to a reporter covering a protest, and she asks you your name, and you tell her, you realize you might be named in a story, right?
The paper removed the name of a protester who complained because, alas, it doesn't want to help The Man:
Any information The Daily provides about the protest [like reporting on it?] can be used against the participating students — while some universities grant amnesty to student protesters, Northwestern does not. We did not want to play a role in any disciplinary action that could be taken by the University. Some students have also faced threats for being sources in articles published by other outlets.
It operates under these daycare rules because it's not a "professional publication." You got that right, editors.
And these twits had the gall to claim their groveling editorial is in line with the Society of Professional Journalists Code of Ethics: "Ethical journalism treats sources, subjects, colleagues and members of the public as human beings deserving of respect." Yeah – it also consists of journalism.
It's not clear how the Daily can do its job without, you know, taking photos, asking for interviews and naming people it quotes, but like the surgeon who "just got reinstated … well, not officially," they'll figure it out:
Going forward, we are working on setting guidelines for source outreach, social media and covering marginalized groups. As students at Northwestern, we are also grappling with the impact of Tuesday's events, and as a student organization, we are figuring out how we can support each other and our communities through distressing experiences that arise on campus. We will also work to balance the need for information and the potential harm our news coverage may cause.
MORE: University employees steal bundles of newspapers to stop bad publicity
"Harm" and "trauma" are the talismanic words with which exponents of the successor ideology are euthanizing liberal values in the rising generation. All who served as apologists or useful idiots for these ideas are to blame. https://t.co/vsdpzmpr06 pic.twitter.com/U0NFPQoVnB

— Wesley Yang (@wesyang) November 12, 2019
What the Daily is really saying is that it will do whatever any "marginalized" group tells it to do. Print our demand list in full? Check. Hide our identities when we protest in public? Check. Advocate for our cause as a condition of getting interviews with us? Check.
And most of all, grovel and debase themselves whenever we noble marginalized angels complain about anything you do? Of course. This column has already waved the white flag on the practice of independent journalism.
Instead, the Daily has made plain that it's the PR mouthpiece for any person or group claiming to be marginalized.
Editor-in-chief Troy Closson tried to walk back the editorial in a tweet thread early Tuesday, citing the pressure he has felt as only the third black EIC in the history of the paper.
But the most he'll say is that the editors "over-corrected." The editorial remains unchanged as of now, including its ridiculous insistence that "ethical journalism" requires the abdication of journalism.
/5 And our statement and the areas it fell short were largely a result of that — of how challenging it can be for marginalized students to navigate situations like those this past week while balancing our identities, roles as student journalists and positions as students at NU.

— Troy Closson (@troy_closson) November 12, 2019
I'm not buying his claim that the Daily editors are hobbled by their "gaps in knowledge about what journalism consists of." Its newspaper office in the Norris building is a four-minute walk from the Medill school on Northwestern's campus (below).
Even though it doesn't formally oversee the newspaper, the J-school could provide some helpful tips for the editors on covering protests. But it's not clear from the editorial that the editors would actually follow the advice of veteran journalists.
MORE: Medill lets its accreditation lapse
IMAGE: Bannykh Alexey Vladimirovich/Shutterstock
Like The College Fix on Facebook / Follow us on Twitter