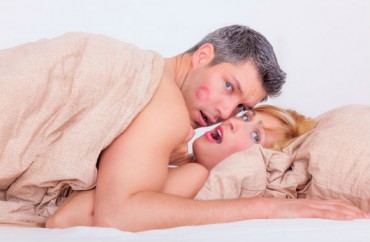 'Virginity is made up'
A student op-ed recently argued that the concept of virginity—the state of not having engaged in sexual intercourse—"doesn't even exist," that it is "made up" and that "sex should be defined by the individuals."
"Over time I've come to realize that virginity doesn't even exist; by definition, it refers to the first time someone has sex, but sex can mean different things to different people," Anabel Costa writes in The Daily Nexus, the student newspaper of the University of California, Santa Barbara.
According to Costa, "queer women who have had sex with other women are considered virgins simply because they've never been penetrated. My girlfriend has been called a virgin by our friends because they don't readily accept what we do as sex."
"Ultimately, sex is culturally defined by the presence of a penis, or at least some form of penetration, and this is just wrong," Costa writes.
According to Merriam-Webster, a "virgin" is defined as "a person who has not had sexual intercourse." The primary definition of "sexual intercourse" by that dictionary is "heterosexual intercourse involving penetration of the vagina by the penis."
"This cultural definition makes the task of navigating the world as a queer person that much more confusing, especially for cis women having sex with other cis women," Costa writes:
We often miss out on having those stories about our "first time," because no one ever talks about what that would even look like. One of the things I heard about while I was growing up was "scissoring," and I thought, "So, are we just supposed to smash our labia together until we both come in one simultaneous moment of bliss?" No, young Anabel, nobody does that. The next thing you might learn is that lesbians lose their virginity when they are eaten out. This sounds great, except men can eat out girls as well, so why are straight women who have only been eaten out still considered virgins?

It's almost as if we're agreeing that gay women really only get half the experience that straight women get, and as someone who has had sex with both men and women, that just doesn't feel like the truth.
"My definition of sex is that it must be a consensual, intimate, vulnerable and, of course, sexual act. That's it," Costa said.
"Sex is whatever it feels like it should be to you and your partner. Plus, virginity is made up anyway, so who really cares?" she adds.
MORE: University's Sex Week to teach women how to have anal sex with strap-on dildos
IMAGE: altafulla / Shutterstock.com
Like The College Fix on Facebook / Follow us on Twitter