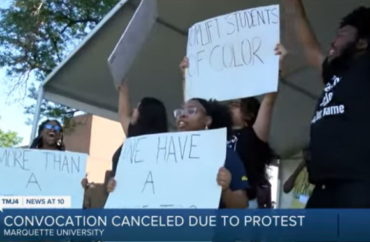 University to reschedule event, says it supports students of color
Marquette University leaders shut down the school's convocation after a crowd of students stormed the stage to protest alleged racism at the private, Milwaukee-based institution.
The protest last week was organized by the Black Student Council of Marquette University, which stated its members sought to "bring to light the constant oppressions and hardships placed on students of color" in an Instagram post explaining the demonstration.
"We are constantly under appreciated, watched, socially abused and forgotten by administration," they added.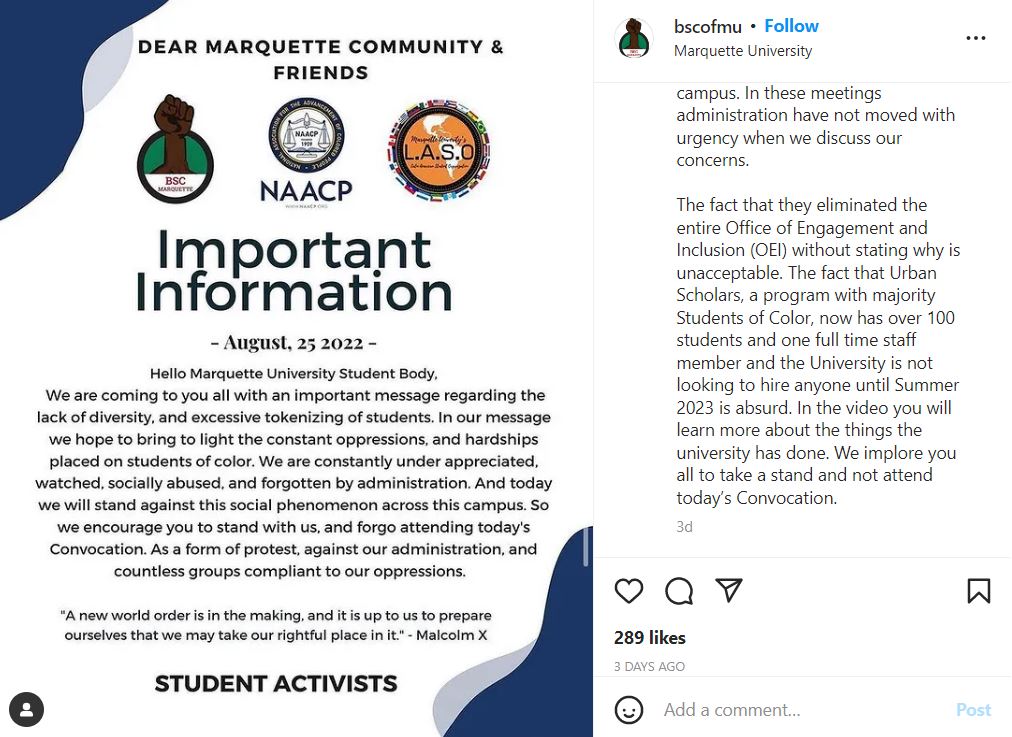 Holding signs and chanting, student protesters stormed the stage at the convocation while parents and students sat in the audience and watched, TMJ4 reported:
About ten minutes after the event was supposed to begin, Provo and Vice President of Academic Affairs Kimo Ah Yun announced to incoming freshman and their families that the event would be postponed.

"I hope you'll take the time to be able to have conversations with us. And I look forward to being with you when we reschedule," said Provost Ah Yun. …

"I appreciate that Marquette acknowledges the First Amendment rights of free speech. I don't enjoy how in the end the event was still canceled, and I don't get to experience this," said incoming freshman Brennan Wills.

The protesters remained on stage until most of the Central Mall had cleared, leaving just empty chairs.

"We shut this down to represent how they're trying to shut us down," said senior and McNair Scholar Lionel Clay. "Trying to silence our voices. How they're trying to mute us. How they don't want us to be there."
The student group claimed the university eliminated the Office of Engagement and Inclusion, which officials have denied as incorrect. The students also argued the school's Urban Scholars program is understaffed. Officials denied this claim too, arguing the program is supported by a wide range of employees, scholars and administrators.
In a lengthy statement provided to TMJ4, the university said "due to the disruptive nature of today's demonstration at the New Student Convocation, the university rescheduled the event."
The statement added:
We are deeply committed to advancing diversity, equity and inclusion on campus. As a result of our ongoing efforts, 30% of our incoming first-year class identifies as students of color, which is an all-time high in student diversity. … Marquette has grown its Urban Scholars program for first-generation and financially disadvantaged students from the Milwaukee area, and has already committed to hiring another full-time staff person for the program in 2023. Marquette has not closed the Office of Engagement and Inclusion. Supporting the Office of Engagement and Inclusion and the Division of Student Affairs remains a priority as the university actively recruits to refill positions left open due to resignations. Many of these positions are posted online with interviews underway. These roles are expected to be filled this semester. …

Like his predecessors, the MUSG president was invited to speak at today's New Student Convocation because of his role as leader of the undergraduate student government. His claim that he was the only person of color slated to speak at today's New Student Convocation is not correct. Both Provost Ah Yun and Vice President of Student Affairs Dr. Xavier Cole, who both identify as people of color, had speaking roles at today's Convocation."
Marquette is a private Jesuit research university that charges $46,000 per year in tuition.
In the spring, the school unveiled a new seal after Native American activist groups argued the previous seal was disrespectful to Indigenous people.
The seal, which was crafted shortly after the school was founded in 1881, featured a depiction of Father Jacques Marquette in a canoe with a Native American guide. The new seal, however, removes the image of both Marquette, the school's namesake, and his Native American companion.
MORE: Marquette explores blacks-only housing plan, hate speech punishment
IMAGES: Instagram and TMJ4 screenshots
Like The College Fix on Facebook / Follow us on Twitter