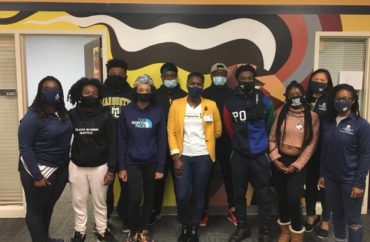 UPDATED
One free speech group warns about punishing hate speech
Marquette University has joined its fellow Catholic institution Loyola University Chicago in considering blacks-only housing.
The Catholic college in Milwaukee announced an update in early September on a number of demands from the Black Student Council at Marquette, including a pledge to explore a "Black Living Learning Community" and ways to punish "hate speech."
The student activist group had asked the university for a number of demands in a July Change.org petition that garnered 1,500 signatures.
"Marquette will work toward creating a Black Living Learning Community in a residence hall," campus administrators said in their September 3 update to the community. Learning communities "bring together students with common majors or common interests" and are offered to freshmen and sophomore students, according to the school's residence life office website. There is currently a Latino learning community.
The school will also "review and revise, as needed, current policies regarding hate speech and racist behaviors to better allow for effective enforcement," according to the statement from university President Michael Lovell and Provost Kimo Ah Yun. The review and revision is geared toward improving "the campus environment for all students and employees."
Though the update first came out on September 3, the school has still yet to provide further details on its plans. The College Fix reached out three times via email to media relations officials seeking comment on the plan in the past week but has yet to receive a response on how the school plans to punish hate speech and how it plans to implement the Black Living Learning Community.
MORE: Marquette paper won't publish alleged racist posts from school president's son
Yun did not return an emailed request for comment from The Fix on the hate speech proposal nor the learning community proposal.
Brad Stratton, the communications director for the president's office, did not respond to an emailed request for comment from The Fix.
Regulating hate speech raises concerns for Zach Greenberg, a program officer for the Foundation for Individual Rights in Education. The civil liberties nonprofit has cited Marquette multiple times and currently gives it a "red" rating for its poor policies.
"The problem with universities seeking to punish 'hate speech' is that there is no widely-accepted definition for this term" which leaves student expression "at the whims of university administrators," he said.
"Without clearly-defined rules governing the range of permissible expression, students will self-censor, chilling academic debate and hindering students' right to discuss controversial issues," Greenberg said.
The new programs come after demands and a rally from student activists. The Black Student Council petitioned and met with university administrators that led to a number of changes from the university.
"We — along with other senior university leaders — met with the Black Student Council and other concerned students following the student demonstration," Lovell and Yun wrote.
"Their stories made vividly clear that racism — both systemic racism and racist, discriminatory actions — are part of our campus life."
The Black Student Council did not respond to multiple emailed and Facebook requests for comment from The Fix.
MORE: Marquette hosts 'Black Male Appreciation Luncheon'
Other updates include 40 full scholarships to senior students in the city of Milwaukee, though activists only asked for 30 new scholarships.
University officials also agreed to "hire additional counselors of color in the future" and "create a permanent cultural center on campus for Black students." In total, the school appeared to agree to almost every demand from the Black Student Council.
The university also has a President's Commission on Racial Equity that will work on these issues. The school also agreed to create a new committee to explore racial issues.
Campus officials "will create a standing committee to be called the Committee for Black Student Initiatives," the update said. The committee will "address, discuss and implement initiatives and programs designed to increase the recruitment, retention and success of Black students at Marquette," as well as "improve the climate for Black students at Marquette."
Editor's note: The article has been updated to correct an error on behalf of The Fix in a quote from Zach Greenberg that incorrectly said "whites" instead of "whims." 
MORE: Marquette revokes admission of student who compared kneeling during anthem to George Floyd's death
IMAGE: Black Student Council at Marquette/Facebook
Like The College Fix on Facebook / Follow us on Twitter