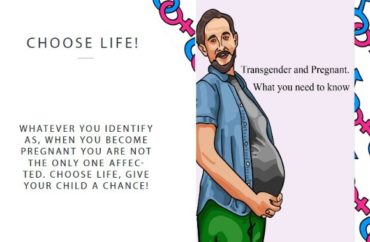 From an A-minus to a D-minus
In 2017, a Fresno State University professor told his class to erase pro-life chalking that was expressly permitted by the public university. He paid $17,000 and agreed to take First Amendment training to settle the resulting lawsuit.
Three hours north, a pro-life student claims she faced even worse discrimination by a professor, in an incident that threatened her graduation.
Brianna Mangat made a brochure for people who are "transgender and pregnant," or trans men, for her Queer Studies class at the University of California-Davis.
It was not subtle, as judged by a copy given to The College Fix by Students for Life of America. "Planned Parenthood lies to those that are pregnant," reads the brochure, which appears to cite the Pro-Life Action League as the source for its material.
Rana Jaleel, assistant professor of Gender, Sexuality, and Women's Studies, issued Mangat "zero points" for the brochure, "accusing her of using biased resources," according to an email blast Monday from SFLA.
Yet Mangat had only "stated biological facts about fetal development" that "could be backed up through neutral resources," SFLA said.
According to a "grade distribution" provided by the pro-life group (below), Mangat received 100 percent on every assignment except three: the zero on "Queer Emergency!" as well as a 90 on the midterm and 77 on the final paper. That paper "was graded and entered after the brochure was turned in to the professor," SFLA said.
"Queer Emergency!" and the final each counted for 30 percent of the grade, bringing Mangat's grade down from an A-minus to a D-minus. As a result, she was barely able to graduate this spring.
"Trans rights are human rights!" Mangat's brochure proclaimed. "But what is the most basic human right? The right to life!" It includes an illustration of a trans man – a biological woman taking male hormones – who is pregnant (above)
"Whatever you identify as, when you become pregnant you are not the only one affected," Mangat wrote in the brochure. "Choose life, give your child a chance!"
Jaleel (left) has not responded to a Fix request to answer Mangat's allegations. UC-Davis media relations responded to a Fix query midday Monday, asking for a deadline, but did not answer questions the rest of Monday.
According to her faculty page, Jaleel received a fellowship sponsored by the abortion-rights Center for Reproductive Rights at Columbia Law School. It was a full-time position "designed to prepare recent law school graduates for legal academic careers in reproductive health and human rights," the center said when picking Jaleel.
She also serves on the Committee for Women in the Profession at the American Association of University Professors.
'You can have a safe pregnancy and a safe transition at the same time'
Mangat does not appear to fit the stereotype of a pro-life advocate, judging by her Facebook profile.
She posted about googling for "sugar daddy websites" after graduation, created the hashtag "Make America British Again," cheered the election of Barack Obama, and lists several nicknames, including "Briffizzle fo shizzle." Her name is pronounced "AY-vrel-LA-vin IS-ded," a reference to a long-running conspiracy theory about the singer Avril Lavigne.
Yet Mangat also asked friends to donate to the March for Life for her birthday (right) and shared posts by the pro-life biopic "Unplanned."
The brochure she created does not shy away from advocacy, moral judgments or painful imagery. It shows illustrations of human development in the womb but also dismembered limbs from aborted fetuses.
"Clump of cells? No!" it proclaims, sharing citations about fetal heartbeat, brain waves and ability to feel pain. "Abortion will hurt your child, and will hurt YOU!"
The most common form of abortion in America "vacuum[s] the baby from the uterus" and requires the abortion provider to reassemble the dismembered humans "to check for completion at the end of the procedure." This shows that "Abortion is plainly murder."
MORE: Professor tells class to erase pro-life chalking, gets sued (VIDEO)
Though the cover says Planned Parenthood "lies," the abortion provider is only mentioned once more, for performing 370,000 abortions a year. The brochure says 45 percent of abortion seekers have already had an abortion, and that 22 percent of pregnancies end in abortion. "Abortion indirectly affects black and Hispanic people," it says without elaborating.
The rest of the brochure focuses on pregnant trans men, advising them to stop taking testosterone until their menstrual cycles return and explaining they can breastfeed even if they've had mastectomies.
"Pregnancy does not make you any less of a human being no matter what others say," the brochure continues:
Pregnancy is a gift of life and can help you transition. For female to male transitions raising a child can help you explore your masculinity or feminity [sic]. Aborting your child will cause more trauma and emotional damage in the long run. …

You can have a safe pregnancy and a safe transition at the same time. While being pregnant may postpone your transition the gift of human life will be worth it.
'How can people claim to be transgender' if the gender binary is not real?
Jaleel's final assignment asks students to reflect on three readings and how their authors made "surprising or novel" claims about "queer" or "trans" ideas.
Mangat wrote in the final paper (below) that she had not "drastically changed" her understanding of "queer," but now has a "label" to put on her "old habits of thinking." By defining the "fluid" term, she said, "one can actually limit a large group of people."
The student said "scientific evidence" has always shaped her views on "the validity of transgenderism" – a term generally discouraged by gender scholars – "and whether the binary is real of [sic] not." Magnat said she knew "many brilliant female athletes" who could never compete with a man if the sexes competed against each other: Sex is much more "pronounced" than other genetic advantages.
In her discussion of the "third gender," Mangat said advocates of the concept are actually hurting their own cause "by implying that their sexuality is a deviation from the normal." Mangat also said she questioned "the legality of marriages and immigration" in the usage of queer and transgender terms.
She still questions "how can people claim to be transgender" if the gender binary is not real: "a male transitioning to female is acknowledging that the binary exists and that genital and physical appearance factor into sex and gender."
Mangat also said it was "interesting" that none of the readings addressed an argument that "I have always heard growing up": that "transgender is a mental illness," and as such, that identity has an effect on trans suicide rates.
"Pro-life students do not deserve to be targeted by radical feminist professors for their views," Nick Reynosa, California regional coordinator for SFLA, wrote in the group's statement Monday.
"Brianna followed the instructions and created a resource for people who are pregnant, yet was punished by her supposedly progressive professor," he said.
Final paper by student who made pro-life pregnancy brochure for trans men by The College Fix on Scribd
MORE: Professor who told class to erase pro-life chalking pays $17K to settle
IMAGE: Brianna Mangat
Like The College Fix on Facebook / Follow us on Twitter