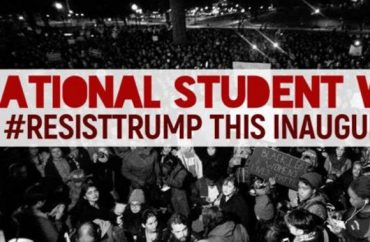 A student socialist group has organized a nationwide walkout on Friday to protest the presidential inauguration of Donald Trump, fearing the new president and his party will "unleash a storm of attacks" on various segments of the American population.
The National Student Walkout Against Bigotry & Hate is organized by Socialist Students, a campus arm of Socialist Alternative. The protest events were initiated shortly after Trump's victory over Democrat Hillary Clinton.
From a press release published Nov. 13:
Donald Trump and the Republican Party are preparing to unleash a storm of attacks on women, immigrants, the Muslim community, LGBTQ people, workers, and the environment. We must stand together in solidarity against Trump's attempts to divide us!

A huge national student strike will send a clear message to Trump, the billionaire class, and the Republican Party that we reject their agenda of bigotry, hate, and division; that we reject their corporate policies to gut our social services and education.
Walkouts have been planned in more than a dozen cities, according to Socialist Students' website. Campus walkouts are planned at the University of California Santa Barbara, University of California Los Angeles, Ohio State University and University of Minnesota, among others. Events are also planned in cities such as New York, Chicago and Philadelphia.
The leftist organization claims the walkouts are necessary to #ResistTrump and combat a political administration that has purportedly put the millennial generation under attack.
The group states it believes Trump can be defeated, but only through a mass movement:
If we want to defend ourselves, our generation needs to build a mass movement of resistance from day 1 of Trump's presidency. Even before Trump takes office on January 20th, the Republican controlled Congress is preparing the most aggressive right-wing, pro-corporate agenda in modern history.
The organization alleges Trump and the Republican Congress want to cut all funding to Planned Parenthood, deport millions of immigrants, encourage racial profiling by law enforcement and end health care coverage for low-income and young Americans.
Socialist Students has a presence on nearly four dozen colleges campuses and bills itself as a group of "young people who see the crisis of student debt, the lack of good paying jobs, and our declining living standards as being entirely connected to the crisis of capitalism."
The walkout planned by the organization will not be the only protest held on college campuses on Friday.
A walkout is also scheduled for Friday at the University of Southern California along with a series of related events scattered throughout the week. Those include a rally for inclusion and tolerance, a forum on "Anti-Racist Pedagogy" and an event titled "Protect Roe v. Wade." The pro-abortion event will include complimentary "Protect Roe v. Wade" hats.
MORE: This Christian university's marching band thrilled to take part in inaugural parade
Like The College Fix on Facebook / Follow us on Twitter
IMAGE: screenshot