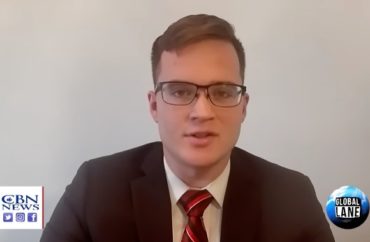 Display claimed other religions are 'disenfranchised, exploited, and victimized'
A Christian student at Indiana University-Purdue University Indianapolis recently spoke out about a hallway display constructed by one of his school's instructors that decried "Christian privilege." The display "shocked" and "offended" IUPUI student Jacob Stewart, he said.
"Some of the examples [the bulletin board] used as Christians having privilege was being able to worship freely or having a Bible study during school lunch, which is pretty crazy because that's not a privilege. It's a constitutional right afforded to everyone regardless of religious background," he said in a recent appearance on Fox & Friends.
Christians maintain privilege "at the expense of members of target groups," according to the display. As a result, these targets are "disenfranchised, exploited, and victimized" by Christians. The display also linked Christian privilege to "white supremacy" and "oppression"; non-Christians "are people subjected to exploitation, marginalization, powerlessness, cultural imperialism, and violence."
The College Fix reached out to Stewart (pictured) on Facebook but has not received a response.
He also spoke to CBN to share his concerns, which reported it as "anti-Christian bigotry on full display."
"What it really comes down to is the professor was accusing Christians of being oppressors because they are in the majority," Stewart told CBN. "That shows the double standard when it comes to leftward thinking and when it comes to these college campuses that advocate for diversity and inclusion."
"They ignore the fact that over 75 percent of black Americans and Latino Americans are Christian," he said.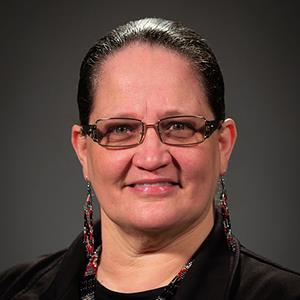 IUPUI Native American and indigenous studies lecturer Charmayne "Charli" Champion-Shaw (pictured, left) claimed responsibility for the bulletin board, Campus Reform reported, adding the display remained visible to students in a university hallway at least from October 2022 until the end of the 2022-23 school year.
Champion-Shaw serves as director of the school's Office of American Indian Programs. "With her experience in advocacy and social justice, Champion-Shaw is an ideal proponent of faculty and staff concerns," IUPUI stated, according to its website.
According to her display, "Christian privilege is the idea that Christians receive inherent advantages in society (in school, in the workplace, and in public places) due to the perception that Christianity is status quo, while other religions are not." Because of that, other religions are "marginalized" and "perceived as troubling."
Champion-Shaw recounted her experience in 9th grade with a Christian club that held meetings at lunchtime, calling it "the weaponizing of Christianity."
This is not the first time the concept of Christian privilege has surfaced on a college campus.
A Rutgers University lecture in 2020 argued "white Christian privilege" and "Christian privilege" are responsible for slavery, genocide and colonialism. In 2018, George Washington University hosted a training session for students and faculty that teaches that Christians — especially white ones — "receive unmerited perks from institutions and systems all across our country."
Over at Harvard University, the threat of "Christian Nationalism" is perceived as so significant that the student newspaper dedicated a weekly column to it last year. Aidan Scully wrote the "Free Exercise Thereof" column every other Tuesday through November to "investigate" the "concerted effort to undermine the separation of church and state" for The Harvard Crimson. He wrote in his column that "acknowledging and addressing this existential threat should be our utmost constitutional priority."
As for IUPUI, it lists a number of resources online on its "Division of Diversity, Equity, & Inclusion" webpage that contain more materials with information about "Christian privilege" and privilege in general, like "7 Ways White People Can Combat Their Privilege" and "Explaining Privilege to a Broke White Person."
Among the resources listed is an article called "White Fragility," written by author Robin DiAngelo for the International Journal of Critical Pedagogy. DiAngelo wrote the New York Times bestseller "White Fragility: Why It's So Hard for White People to Talk About Racism," in which she claimed that a "white supremacist worldview" is "the bedrock of our society and its institutions."
Efforts by The College Fix to reach several Christian groups on the IUPUI campus for comment went unreturned.
MORE: Teacher drops out of Christian grad school over concern course too 'woke'
IMAGE: CBN News/YouTube; Indiana University-Purdue University Indianapolis
Like The College Fix on Facebook / Follow us on Twitter